If you suspect that someone you know may be suffering from an addiction to drugs, seeking help is the first step to getting that individual on the path to recovery. You are likely afraid, overwhelmed, or otherwise anxious about the process of recovery - but rest assured that getting professional treatment is the best solution to a drug or alcohol addiction.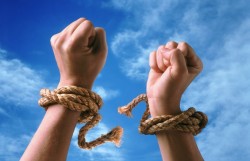 Free yourself from addiction by calling 1-800-654-0987 for help.
The mere courage that it takes to face your addiction shows how powerful you really are. It takes great strength to admit that you have a problem and you need help. If you've tried treatment before, or you've ever tried to quit using drugs on your own and have not been successful - don't give up hope! There is help available to you and you can reach your recovery goals!
Don't Minimize the Problem
Many addicts, and their family members, minimize drug addiction. They downplay the problem making it seem like less of a situation than it really is. It's very common to deny a drug habit or to downplay a problem, making it out to be less harmful than it actually is - but this doesn't help with recovery. Facing an addiction head on, accepting that it IS a problem and that you DO need help is the first step to getting sober.
If you are a parent or loved one of someone who is suffering from addiction, you too can take steps to ensure that the problem has not been minimized. If your loved one denies a problem, and you are sure that there's addiction at hand, don't accept the denial as the end of the conversation - take steps to rectify and find help for the individual regardless of how much they downplay the addiction.
Seek Support
Support is an essential element of the recovery process. While you might be able to overcome addiction on your own, you don't have to! Consider seeking a network of support so that you have a shoulder to lean on when you need help, someone to cry to when you're feeling down and someone to encourage you when you feel like you can't go another day.
Addiction Support Hotlines

Alabama - (256) 217-4779
Indiana - (765) 252-0297
Nebraska - (402) 261-2757
South Carolina - (864) 642-2458
Alaska - (907) 268-4185
Iowa - (712) 266-3564
Nevada - (702) 666-8590
South Dakota - (605) 370-5086
Arizona - (928) 247-6141
Kansas - (620) 860-0576
New Hampshire - (603) 821-4064
Tennessee - (276) 644-2008
Arkansas - (870) 277-4308
Kentucky - (270) 803-0012
New Jersey - (856) 282-1120
Texas - (281) 907-9551
California - (562) 219-4524
Louisiana - (337) 214-0093
New Mexico - (505) 435-9622
Utah - (801) 528-6564
Colorado - (970) 315-0224
Maine - (207) 221-2169
New York - (845) 247-5704
Vermont - (802) 277-3346
Connecticut - (203) 416-6422
Maryland - (410) 777-8131
North Carolina - (919) 238-4011
Virginia - (804) 767-4408
Delaware - (302) 491-0880
Massachusetts - (508) 858-5322
North Dakota - (701) 484-0368
Washington - (509) 464-6019
D.C. - (202) 509-9590
Michigan - (517) 618-9447
Ohio - (614) 423-6724
West Virginia - (304) 915-0148
Florida - (305) 459-3878
Minnesota - (651) 964-3129
Oklahoma - (918) 948-9378
Wisconsin - (262) 672-6213
Georgia - (678) 712-1869
Mississippi - (601) 707-9002
Oregon - (541) 435-0314
Wyoming - (307) 222-0333
Idaho - (208) 904-3934
Missouri - (314) 714-6374
Pennsylvania - (717) 798-9698
Illinois - (312) 638-9896
Montana - (406) 545-2136
Rhode Island - (401) 288-3581
You will find support through the following individuals:
family members
close friends
counselors
therapists
peers who are also in recovery
your pastor or a member of your faith community
your doctor, nurse or healthcare provider
How to Help a Loved One Suffering from Addiction
If you think that someone you love may be addicted to drugs, take the following steps to encourage him or her make the courageous decision to seek help:
talk with the individual - tell your loved one how the addiction is affecting his or her life and how it affects you. Be honest and understanding but also supportive.
Don't blame yourself - many family members and friends blame themselves for the drug use of a loved one. You cannot help a loved one to get sober if you are too busy placing the blame on yourself. The decision to use drugs is up to the user and therefore the drug addiction is his or her problem.
Get involved in treatment - there are programs available to assist the family members and friends of those addiction to help them find the support that they need to remain healthy. Get involved in treatment by seeking family counseling and therapy, going to a support group such as Nar-Anon, or finding support through your own network.
Don't threaten your loved one - just because you want the individual to get help, this doesn't mean that you should threaten him or her. Instead, encourage him to seek help and offer to assist him or her in finding the right treatment for the individual circumstance.
Don't take over the responsibilities and place undue burden on yourself - doing so will only allow your loved one to continue to abuse drugs. Don't pay bills, offer money or otherwise help to fuel the drug habit.
Getting Sober
Recovery is a long, complex process but it's a process that can be an incredible gift when goals are met and sobriety is achieved. Overcoming addiction will require self introspect and change but it is possible. Taking the steps toward recovery now, seeking support and choosing professional help will ensure you reach your goals, achieve sobriety and live a drug free life in the future.
Call 800-420-9064 to speak with a addiction treatment counselor