Adderall is a stimulant medication that contains both amphetamine and dextroamphetamine. It is most often prescribed to both adults and children who have issues with ADHD (attention deficit hyperactivity disorder). While Adderall helps many people with this disorder, the drug is also highly abused, especially on college campuses. Abuse of Adderall can lead to addiction and other dangerous issues.
Understanding Adderall
Adderall contains two kinds of stimulants which, according to the NLM, are "used as part of a treatment program to control symptoms of [ADHD]."
Someone Who Might Take Adderall Would:
Have Problems Focusing
Be Unable to Control His or Her Actions
Have Issues Remaining Still for a Period of Time
Exhibit Hyperactivity
Be Very Impulsive
Present More Problems in These Areas Than Those Who Share Their Age Group
Aderall may also be prescribed to treat narcolepsy (a sleep disorder that causes "sudden attacks of sleep").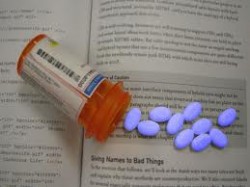 Adderall is abused most often on college campuses, where young people are unaware of the drug's dangers.
The Stamford School of Medicine states that "most people can achieve maximum benefit in 3 to 4 weeks" after using Adderall. There are actually two kinds of the drug, Adderall and Adderall XR, the latter being the extended release version. "Adderall's duration of action is around 6 hours," and Adderall XR lasts about 10 to 12 hours. Adderall XR is "currently the most commonly prescribed medication for the treatment of ADHD in the US."
Because Adderall is a stimulant, it will keep a person focused and awake where normally his or her attention may begin to wander.
It is a very beneficial medication for some individuals who need the extra power to focus. However, there are issues that come with taking Adderall.
Signs and Symptoms of Adderall Use
It is important to know the signs and symptoms of Adderall use. The medication will make someone more alert, awake, and focused which may look beneficial. However, Adderall does have its share of side effects. As stated by the NLM, some of the more common side effects are:
Nervousness
Nausea and Vomiting
Diarrhea
Headache
Weight Loss
Constipation
Dry Mouth
"Changes in Sex Drive or Ability"
Insomnia
Restlessness
"Uncontrollable Shaking of a Part of the Body"
Someone Who is Using Adderall Will Likely:
Be energetic when on the drug
Be focused and alert
Begin to lose weight over time from the loss of appetite caused by the drug
Be more prone to mood swings
Crash when the Adderall wears off, becoming sluggish and sleepy
There are other side effects caused by Adderall that point to serious issues being caused by the drug, such as:
Shortness of breath
"Fast or pounding heartbeat"
Pain in the chest
Dizziness
Fainting
Numbness in arms or legs
Extreme tiredness
Slurring speech
"Motor tics or verbal tics"
Hallucinations
Paranoia
Aggressiveness
"Mania (frenzied or abnormally excited mood)"
Blurred vision
"Swelling of the eyes, face, tongue, or throat"
Fever
Seizures
If you or someone you know is taking Adderall and experiences any of the symptoms above, the NLM advises that you should "call your doctor immediately" and get medical help from the individual as soon as possible. Like all drugs, even appropriate Adderall usage has inherent risks and dangerous side effects.
Risks of Adderall Use
Adderall use can cause serious medical problems if not taken or prescribed correctly. Even still, there are some issues that may still occur as a result of the regular dosage. Doctors must ask their patients certain questions to avoid these issues.
According to the FDA, some of the risks of Adderall usage are:
Heart Related Problems - This can occur if someone taking Adderall has "any heart problems, heart defects, high blood pressure, or a family history of these problems.." If a person feels shortness of breath, chest pains, or begins to faint while on Adderall, it could be a sign of stroke or heart attack.
Psychiatric Problems - Those who already have issues like depression or have a history of suicide in the family should approach the medication with caution. Adderall can also cause "new or worse behavior and thought problems" as well as bipolar illness or "aggressive behavior or hostility." Children and teens are especially vulnerable to "new psychotic symptoms" like hallucinations, paranoia, and mania.
Circulation Problems - A history of circulatory issues should be checked for, but Adderall may cause fingers or toes to "feel numb, cool, painful" or to change colors (pale to blue and, finally, to red).
Because of the inherent risks of taking Adderall medically, it is especially dangerous to abuse the drug. However, it is still done widely, especially by college students.
Adderall Abuse
Those who abuse Adderall are those who take the medication without the prescription of a doctor or those who deviate from their prescriptions in order to feel certain effects. Many people abuse Adderall because of its ability to keep users awake and alert. They do so in order to stay up all night or for several days straight. Others still may abuse the drug because it makes them lose weight.
Those who abuse Adderall usually do so in a binge-crash pattern. A person will continue to take Adderall, staying up for days because the medication allows him or her to function without sleep. Then, after a while, the individual will stop taking the medication and crash, sleeping for a long period of time. He or she will then start the cycle over again. It is not healthy, as all of the side effects caused by Adderall can become more pronounced and the person is causing health problems for his or her body while doing so.
Adderall Abuse Can Lead to Other Issues as Well, Including:
Tolerance "in which more and more [Adderall] is needed to produce the usual effects, can develop rapidly," according to the DOJ. This will cause the individual to take more of the drug each time, possibly leading to addiction and overdose.
The psychological withdrawal caused by amphetamine (and other stimulants) is "the strongest psychological dependence observed." This occurs when a person stops taking Adderall but still craves the medication. Withdrawal symptoms for Adderall may also include "severe depression and extreme tiredness" (NLM).
Adderall abuse can also lead to addiction, causing even more problems for the individual and his or her loved ones.
Adderall Addiction
Adderall addiction can become very severe and cause many problems in your life.
If you believe you may be addicted to Adderall, ask yourself these questions:
Do I crave Adderall?
Have I ever lied, or done something else that could have gotten me into trouble, in order to obtain more Adderall?
When I am not taking Adderall, do I not feel like myself?
Have I noticed "unusual changes in [my] personality or behavior" since I began taking Adderall? (NLM)
Do I get angry when someone asks me about my Adderall use or expresses concern that I may be taking too much of the drug?
Have I ever had to take another medication (prescription opiates, sleeping pills) to come down from an Adderall binge?
Do I only want to spend time with other people who take Adderall?
Do I hide how much Adderall I take from my friends and family?
Do I feel like I need Adderall to get through the day?
Has doing Adderall caused me many problems over the past year (school problems, relationship problems, work problems, etc.)?
Have I still continued to do Adderall despite the problems its causing me?
Answering yes to any of these questions could be a sign of addiction.
Adderall addiction can cause further issues for you, such as:
Overdose - Adderall overdose can lead to heart attack, stroke, and death. It's characterized by aggressive behavior, confusion, seizures, blurred vision, and "dark red or cola-colored urine" (NLM).
Legal Problems - Many people steal prescriptions to obtain Adderall or illegally buy the drug.
Work and School Problems - People often perform worse when on an Adderall binge, even though they believe they are performing better. Your grades or work performance could begin to suffer.
Relationship Problems - Because of the mood swings caused by Adderall abuse, problems could occur in your relationships, be they family, romantic, or friendships.
Prevalence of Adderall Abuse
SAMHSA states that "an estimated 6.4 percent of full-time college students age 18 to 22 used Adderall nonmedically in the past year." Most of the people who are abusing Adderall are young, college students. They often do so in order to stay up and study for tests. They do not realize the devastating effects of the drug and continue to abuse it, building up a fast tolerance and addiction.
Some individuals will crush and snort Adderall, but the pills are often ingested as is. Adderall may also be called an upper or just simply the blue pill when someone is making reference to it as a recreational substance.
Other statistics involving Adderall abuse are:
"Research has shown that students who abuse prescription stimulants actually have lower GPAs in high school and college than those who don't" (NIDA).
"Full-time college students" in 2006 and 2007 were "twice as likely as those in the same age group who were not in college" to have taken Adderall for a nonmedical purpose (SAMHSA).
Adderall abusers are much more likely to be polydrug abusers (those who abuse more than one drug) than those who did not take Adderall at all.
Adderall Addiction and Abuse Treatment
According to the
NIDA
, "treatment of addiction to prescription stimulants, such as Adderall... is based on behavioral therapies used in treating cocaine and methamphetamine addiction." Patients who have been abusing Adderall will need formal treatment and time in order to fully recover from their addictions. Most treatment programs should take at least 90 days in order to be successful.
Adderall abuse can cause many issues in a person's life, and he or she will need adequate time to fix those problems. Cravings are also a big issue for those who abuse prescription stimulants like Adderall, as they can sometimes last for several months after the person has stopped taking the drug. This is why Adderall detox, as the first step of substance use treatment, is so important.
Adderall Detox
Adderall detox may occur in either an inpatient or outpatient facility. Because the symptoms of withdrawal are not extremely physical (like those of alcohol withdrawal), many people have believed in the past that stimulant withdrawal is not strong. This is absolutely not the case. People have a tendency toward depression and suicide when dealing with stimulant withdrawal. The cravings are also very intense, causing problems for those attempting to stay away from the drug.
In Adderall detox, you might be given medication like anti-depressants to help with your withdrawal symptoms. If you have a strong support system at home and no other issues with mental disorders, outpatient detox may be for you. However, if you are without a supportive group of friends and family, or if you are suffering from another disorder like bipolar disorder, depression, or anxiety disorder, you may want to detox in an inpatient facility.
Types of Adderall Addiction Treatment
Adderall addiction treatment is mostly focused on behavioral therapy. "At this time, there are no medications that are FDA-approved for treating stimulant addiction" (NIDA 2). This is why behavioral therapy is so important.
The types of therapy you might encounter in treatment are:
Contingency management- A type of therapy in which patients are introduced to a system that enables them to "earn vouchers for drug-free urine tests." They can exchange their vouchers for healthy-living items. It plays on the reward system in the brain that has since been altered and changed as a result of Adderall addiction.
Cognitive-behavioral therapy- A type of therapy that teaches patients how to change the way they perceive and react to their cravings, triggers, and other issues that relate to their abuse of Adderall.
Support groups- A type of therapy that would be beneficial after or "in conjunction with behavioral therapy." Here, a person can meet others who are going through the same issues and share feelings with those who understand.
Adderall, while beneficial in many cases, can be addictive. Its high potential for abuse makes it a drug of which users should be cautious. Make sure you discuss your use of Adderall with your doctor, and explain any problems or side effects you may be having. Also remember that Adderall abuse can cause issues that are not easily reversed and can leave you with cravings for the drug months after treatment.