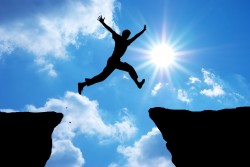 Breaking the cycle is challenging, but with each risk comes great reward.
Drug addiction is not prejudice; it can strike at any time and may affect those who are young or old, rich or poor, healthy or not.
Unfortunately, the only way to avoid drug-addiction is to never use drugs, but in a society in which drug use is increasingly becoming a "norm" in American households, this can be challenging. Fortunately, there is hope for those who become addicted-recovery is possible.
The First Step to Recovery
The very first step to recovery is to make a decision to change bad habits. Unfortunately, accepting and admitting that you have a problem is often the most difficult step in the entire process, especially for those who are strong willed. How do you know that you are suffering from an addiction and need to make a decision to change? You may:
Be using drugs regularly or in place of other means of coping.
Have had your friends or family confront you about drug use.
Have been in trouble with the law as a result of your drug use.
Have suffered an accident or injury as a result of drug use.
Wish you could quit but can't figure out how.
Any of these signs can help you to realize that you have a problem which needs to be corrected. Realizing that there's a problem is the first of many steps that you will take as your begin your journey to recovery.
How will I Change?
Change is difficult for most people - downright scary and seemingly impossible for some, but it does happen and it can help. Breaking bad habits and getting yourself back into the driver's seat ready to take control of your life can be difficult, but not impossible by any means.
During recovery you will:
Learn how to cope with stress.
Learn how to deal with emotions.
Find positive ways to spend your time.
Learn how to inspect your feelings and self-confidence and overcome potential downfalls.
Become aware of your surroundings and the potential risks involved.
Find new ways to have fun.
Learning What it Takes to Recover from Drug Addiction
Much of the treatment process will be about figuring out how you can live a life without drugs. There will be plenty of time for enrichment and self-introspection in which you will gain confidence and understanding. You may feel at times that you cannot possibly recover from this disease, but with the right support and guidance, those feelings will quickly dissipate and you'll begin to see the light.
In Order to Achieve Recovery, You Will:
Learn new, positive and healthy habits that can replace old habits of drug abuse.
Learn how to control cravings or avoid potential triggers that may lead to relapse.
Learn how to build meaningful relationships that contribute to a happier, healthier you.
Develop coping skills that will help you to overcome stress, emotions and other psychological elements which may otherwise contribute to relapse.
Find hope in the new path that is being paved for your recovery.
Types of Recovery Programs
Many different programs are available to assist you in achieving your recovery goals. The type of recovery program that you choose will depend on various factors including the severity of your addiction, the type of addiction, your individual needs or desires, and possibly other factors too.
The Most Common Recovery Programs Include:
Holistic recovery programs.
Twelve-step recovery programs.
Faith based recovery programs.
Non-twelve step recovery programs.
Natural recovery programs.
Each program provides support, intervention and care that is aimed at helping you to succeed in recovery. Occasionally, you may find, that a single approach doesn't work and you may feel the need to seek a different program of recovery-that's "ok" and perfectly acceptable as there is no one-size-fits-all approach that will work for everyone.
Getting Help
If you're not sure which recovery program is ideally suited to your needs, or if you simply want to talk to someone about your options, call our helpline at 1-800-654-0987. Our caring support specialists are ready to help you make the bold and courageous decision to change. Recovery is not unreachable-we can help you embrace the strength and power of positive change.