Xanax is a commonly prescribed benzodiazepine that is used in the treatment of anxiety and panic attacks. When the medication is taken correctly, as prescribed, there is little risk for consequential reaction, but when abused, Xanax can cause serious side effects, coma or death.
Understanding Xanax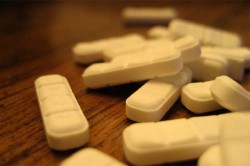 Xanax is a powerful medication which is prescribed to treat anxiety. When abused, it can cause a powerful dependence and addiction.
According to Medline Plus, Xanax is more commonly known as Alprazolam. It works by decreasing the amount of activity that takes place in the brain, causing a relaxed state which is conducive to reduced anxiety and panic. This medication is often prescribed to people who have serious anxiety or who have unexpected attacks of fear that interrupt the individual's life.
Xanax is taken orally usually every 4-6 hours or, if an extended release tablet is taken, once daily. When taken exactly as prescribed, the drug can promote relaxation and reduced sense of panic and fear.
Unfortunately, when Xanax is abused there are risks involved such as overdose, physical dependence, and other serious consequences.
Often times, users who take Xanax recreationally purchase the drug online through internet pharmacies. Unfortunately, according to the FDA, this practice is both dangerous and widely misunderstood. Xanax should never be taken without a prescription, it should never be taken in any manner other than it is prescribed, and if purchased online, it should only be purchased through FDA approved pharmacists by an individual who has a legitimate doctor's prescription for the medication. Any other use is considered abuse.
Signs and Symptoms of Xanax Use
Taking Xanax can lead to an array of side effects that may be noticed by outsiders. Stanford University outlines the following signs and symptoms of Xanax use which can be seen by a loved one or friend if close attention is taken:
Drowsiness or Fatigue
Irritability
Relaxed State
Memory Loss
Cognitive Impairment
Coordination Impairment
Clumsiness
Staggering or Inability to Stand
Trembling
Slurred Speech
Additional effects of Xanax, which may be only be noticed by the user include:
Abdominal Cramping
Depression
Light-Headedness or Headaches
Nervousness or Heightened Anxiety
Vomiting or Nausea
Hallucinations, Auditory or Visual
Sore Breast
Difficulty Breathing or Labored Breathing
Cravings
Signs of Xanax Abuse
When Xanax is used regularly it can be habit-forming. Often times, Xanax abuse begins with a patient being prescribed the medication for a legitimate purpose. The patient later finds that taking the drug makes him or her feel more comfortable and starts to abuse the medication in an effort to "feel good."
Any misuse of a medication, whether the medication is prescribed or not is considered abuse. Xanax abuse is often overlooked because the individual or those on the outside don't suspect abuse if the drug is prescribed. Xanax abuse can also be overlooked simply because the user hides his or her drug use.
The Earliest Signs of Abuse Include:
Increased Tolerance.
Increased desire to take the drug with or without a legitimate purpose.
Taking Xanax for reasons other than prescribed.
Taking Xanax more often than prescribed.
Taking more Xanax than prescribed.
Using Xanax when it is not prescribed.
Purchasing Xanax from friends, family or from people on the streets.
Stealing Xanax from a friend or family member.
Taking Xanax to feel "happy" or in order to "cope" with emotions.
Taking Xanax with other drugs or alcohol.
Xanax Addiction
According to NIDA, "nonmedical use and abuse of prescription drugs is a serious public health problem in this country." Drugs such as Xanax, prescription painkillers and other medications have the potential to be habit-forming and often lead to addiction that is difficult to treat. Xanax addiction can develop following prescribed medical use of the drug or following recreationally use. The truth is, addiction is not prejudice and does not care if the individual is prescribed the drug, takes the drug recreationally, is young or old, rich or poor. Anyone who takes Xanax has a risk of developing physical dependence.
Symptoms of Xanax Addiction
If you're wondering whether you are addicted to Xanax or if you suspect that someone you love may be suffering from Xanax addiction, ask yourself the following questions. If you answer yes to the questions that follow, you are likely suffering from an addiction:
Do you take Xanax despite problems that the drug use has caused in your life?
Do you use Xanax to cope with emotions such as stress or discontentment?
Do you regularly take more Xanax than you intended?
Have you made promises to quit or cut back and failed?
Does Xanax rule your life?
Do you feel as if you cannot go through a day without Xanax?
Do you crave Xanax when you don't have it?
Is Xanax the first thing you think about in the morning and the last thing you think about at night?
Have you been in trouble legally as a result of Xanax?
Do you purchase Xanax from anywhere other than a pharmacy?
Do you regularly run out of Xanax that is prescribed to you?
Do you go to more than one doctor in order to obtain Xanax?
Do you wish you could quit taking Xanax?
Answering YES to any of the above questions should signify that you may need additional help.
Xanax Withdrawal
Taking Xanax regularly, for a period of one month or more, can cause physical dependence which results in withdrawal when the drug is abruptly eliminated from regular use or when the dose is significantly reduced. Symptoms of Xanax withdrawal, though generally non-life-threatening, can be difficult to cope with. According to the Connecticut Department of Consumer Protection, symptoms of Xanax withdrawal may include:
Insomnia or Inability to Fall Asleep
Headaches
Heightened Anxiety, Paranoia and Fear
Increase in Number of Panic Attacks
Sweating
Fatigue or Tiredness
Nausea and Vomiting
Hallucinations
Seizures
Fever
Getting Help for Xanax Addiction
Alprazolam addiction can happen to anyone who takes Xanax. Fortunately, there are various treatment options available to assist people who become addicted in regaining control of their lives and becoming more stable.
The most common methods of treatment available for Xanax addicts include:
Individual counseling to help reduce the impact of anxiety and eliminate the need for medication.
Group therapy to reinforce the elements of individual therapy and to reduce the need for medication.
Support groups to help establish a foundation of peer support that is conducive to recovery.
Behavioral therapy, especially CBT, which aims at teaching the addict how to change behavioral response to anxiety and stress.
The use of other medications to reduce anxiety.
The type of treatment that is used will depend on various factors including the severity of the addiction, the individual health of the patient and the commitment of the individual to get sober. Regardless of the method of counseling or therapy that is used in the treatment of Xanax addiction, the first step is always to safely overcome withdrawal. This process takes place during detox.
Detox
The National Library of Medicine describes detoxification as a period of "sobering up" during which the user is placed into a safe environment in which the drug is allowed to properly metabolize and be removed from the body. Medications may be administered to help control the symptoms of withdrawal during detox, or a method of tapering the Xanax off slowly may be used to ensure a safer, more comfortable detoxification.
Tapering the drug off involves gradually reducing the user's dose of Xanax in a way that will result in fewer symptoms of withdrawal. Generally, this method requires the dose of Xanax to be reduced by .25mg a day every 2-4 days until a zero dosing level is reached. While tapering off can take an extensive amount of time depending on the "normal" dose of Xanax that the user takes, this process is often safer and more comfortable than quitting "cold turkey."
Dangers of Quitting Cold Turkey
Although benzodiazepine withdrawal rarely results in fatal complications, there are risks associated with quitting cold turkey. In a case outlined by
PubMed
, a patient was admitted to the hospital as a suspected Zolpidem overdose but was later, after a thorough toxicology report was requested following the death of the patient, found to be in full-blown withdrawal from Alprazolam or Xanax. While cases of death following withdrawal from a benzodiazepine continue to be rare in the United States (with only 2 confirmed cases on record) the risks of quitting cold turkey should be weighed heavily and should never be overlooked.
When a benzodiazepine such as Xanax is taken regularly for many months or years, the risks associated with withdrawal are substantially increased. As such, it's important to be open and honest with your healthcare provider and to always provide adequate details as to your level of drug use before attempting any method of detoxification.
The best method of detoxifying from Xanax after prolonged use whether recreational or prescribed is through slow, and gradual tapering of the medication. This ensures the safest stabilization and can dramatically reduce the risks involved. Any other method of detox, especially quitting cold turkey or attempting a "rapid detox" can be both dangerous and potentially deadly.
Recovery
If you or someone you love is addicted to Xanax, recovery is not out of the picture. If you're committed to getting sober, treatment can help you find your path to recovery. Although the steps that you take may be challenging and even risky at times, the reward that you receive when you find your way will be a lifetime of sobriety. We can help you find the treatment you need to get past addiction and move forward with your life-one step at a time, once and for all.