Constant Sedation
Someone who abuses Ambien will be in a constant state of sedation. They will seem drugged and sleepy all the time, will slur their speech, and will have trouble staying awake. This state is often preferable to the abuser because it disassociates them from the issues they may be attempting to escape.
Often, people who are prescribed Ambien like the way it makes them feel and take more than they should. According to the NIDA, along with sedation, Ambien causes "feelings of well-being" when an individual is intoxicated. These feelings (and its ability to cause calmness and induce sleep when desired) are usually the reason the drug is so widely abused.
Memory Loss
When Ambien is used correctly and safely, it can still cause strange memory loss or short-term amnesia. This is especially true if an individual is abusing the drug. Ambien can cause these problems in many abusers, and it is a sign that friends and family members won't be able to miss in their loved one. According to the NLM, it can often happen "if you get up too soon after taking zolpidem [brand name Ambien]."
Abnormal Thoughts and Behavior
According to the FDA, some of the serious side effects of Ambien that point to an unstable condition can be: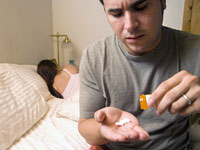 Abusing Ambien has dangerous side effects.
More Outgoing or Aggressive Behavior Than Normal
Confusion
Agitation
Hallucinations
Worsening of Depression
Suicidal Thoughts or Actions
Any of these behavioral issues and extreme thoughts can point to Ambien abuse. They normally occur in someone who is experiencing an unfavorable reaction to the drug, and consuming large amounts of Ambien can be dangerous to the mind and its functions. These behaviors and thoughts as a result of Ambien abuse will be intense, strong, and seemingly without a source.
Apathy
More subtle than the behaviors above, a person who abuses Ambien will likely become apathetic toward work, school, relationships, and any other responsibilities they normally care about. When this occurs, it can lead to the person:
Getting severely reprimanded at school or work for missing days or for low performance
Refusing to take care of responsibilities or any other tasks
Neglecting to care for themselves and ignoring personal hygiene, appetite, and other important aspects of self-care
Not wanting to do anything except take Ambien and sleep
This can often lead to addiction, which can be caused by Ambien abuse over time. An addicted person will not be able to stop abusing Ambien on their own.
Diarrhea
One of the most common physical side effects of taking sleep medications, aside from drowsiness, is diarrhea. Someone who abuses Ambien will experience this issue and may be in and out of the bathroom often. They may even see a doctor for this issue, take over-the-counter medication, or drink fluids all the time in order to stay hydrated. It can be an obvious sign of Ambien abuse, especially if you live with the individual, and will likely begin to interfere with the person's day-to-day life.