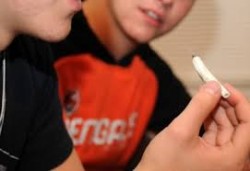 Teen drug abuse is a growing concern that parents should not overlook.
Is Your Teen Using Drugs or Alcohol? Are you unsure how to spot the difference between potential substance abuse and the normal teenage disconnection that occurs between adolescents and their parents? Teen drug abuse is a growing problem throughout the United States, and of major concern for parents and caregivers. Left untreated, or undetected, teen drug abuse can have lifetime consequences-but there is help!
Teens have different reasons for using drugs than adults generally do, and they require a definitive level of understanding and care when it comes to approaching them about their problems. Be overly aggressive, and you may push them away; be too passive, and you may allow something negative to occur right under your nose. As parents, it can be both challenging and downright scary to approach your teen about substance abuse, but communication and education are fundamental to prevention and to positive recovery outcomes.
Signs of Teen Drug Abuse
If you suspect your teen might be using drugs or alcohol, or if you're simply a parent who wants to be informed early on so that you can spot a problem before it becomes a potentially deadly situation, consider the following signs that your teen may be using drugs:
Missing school or making up excuses to stay home.
Declining grades or performance academically.
Inconsolable mood swings that occur without notice and without reason.
Lack of desire in hobbies, sports or other events that were previously considered exciting or fun.
Changes in physical appearance including rapid weight loss, poor hygiene or unusual changes in style of clothing.
Changes in friends or groups that occur rapidly or a lack of desire to introduce new friends to the family.
Hostile attitude, violent outbursts or anger.
Acting secretive as if there is something to hide by locking doors, avoiding phone calls, etc.
Having a lack of motivation or desire to be a part of the family.
Forgetting things or being unable to concentrate.
Seeming "off" as if something just isn't right.
Complaining of illness.
Acting depressed, sad or anxious.
Stealing or lying about money.
Asking for money without explanation as to why or where previous money was spent.
These are just some of the potential signs of teen drug abuse. Parents may not recognize these signs if they are not closely connected with their teens. In fact, many parents passively brush off the signs of drug use as "just a teenager thing" or "just hormones" but the reality is that teen drug abuse is a real problem that many parents woefully overlook until it has progressed into a full-blown addiction.
What Should Parents Do?
As parents, early detection is key to helping a teen who is abusing drugs or alcohol. If you're not involved in your teen's life, get involved! If you haven't talked to your teen about the risks associated with drug use, start talking! If you don't know the early signs of a problem, get educated!
According to
NIDA
, "illicit drug use among teenagers has been well documented, and it appears to be more widespread than parents and guardians may suspect." As such, many parents overlook drug abuse simply because they are not aware of the signs to watch out for. The first step to preventing drug use is to understand what to watch for. The next step is to set a good example for your children by not drinking or using drugs around them. For many parents, especially with as accepted as alcohol is in the United States, setting a good example through abstinence can be difficult-but it can make a major difference in the decisions that your teen later makes when he or she is faced with the temptation to use drugs or alcohol with his or her friends or peers.
Parents Who Suspect Their Child is Abusing Drugs Should:
Discuss the dangers of drug use with their teen.
Avoid placing blame on the individual or pointing fingers as this may push the teen further towards the drug use.
Try to be understanding of the problems the teen is facing and the reasons behind the drug use and look for ways to help solve those problems in a healthy way.
Consider asking the teen's doctor or a counselor for help.
Become more involved with their teen's life.
Demand answers as to who the child will be spending time with, where and what they will be doing and take steps to follow up and ensure such is occurring.
Encourage the teen to live drug free.
Seek professional help as needed.
Teen Addiction Treatment
If your teen is abusing drugs, and you cannot get him or her to quit on your own, addiction treatment may be the best solution. Teen addiction treatment can help your child to kick their substance use habit by providing resourceful guidance, education, support and medical care that is conducive to a full recovery. Left untreated, teen substance use can be a deadly habit but you can help your teen make better choices and get the help necessary to make a full recovery. Call our helpline for help finding the right program for your teen.