Suboxone, a "prescription medicine used to treat adults who are addicted to (dependent on) opioid drugs (either prescription or illegal)," is a medication with two active ingredients: naloxone and buprenorphine (FDA). Suboxone is a brand drug, but the two drugs it contains have varying degrees of opiate-based effects.
Buprenorphine
Buprenorphine is the main ingredient in Suboxone. According to the DOJ, "Suboxone is a combination product with buprenorphine and naloxone in a 4:1 ratio, respectively." Because of this, most of the effects caused by Suboxone are based on the buprenorphine that it contains.
Buprenorphine is a partial opioid agonist-antagonist. This means that it causes many of the same effects that regular opioid and opiate agonists cause, but they are much more mild and less intense than opioids like heroin and methadone. Buprenorphine is used this way to treat opioid dependency and addition in two different prescription medications - Suboxone and Subutex. Subutex does not contain the other ingredient, naloxone.
Naloxone
Naloxone, according to the NLM, is in "a class of medications called opioid antagonists." This means that it blocks the effects of opioids and can actually reverse opioid effects. Naloxone is often used to reverse severe respiratory depression during opioid overdose as the prescription drug Narcan.
Naloxone is included in Suboxone in order to prevent users from abusing the drug; it can precipitate withdrawal symptoms if a person crushes the drug and injects it, which is one of the most common forms of abuse. This can help curb a person's desire to abuse Suboxone because they know they will experience withdrawal and, if they do so anyway, their high will likely be short-lived due to the withdrawal symptoms.
Is Suboxone an Opiate?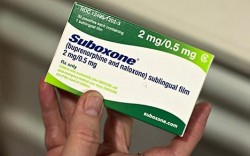 Suboxone contains buprenorphine which is a partial opioid agonist-antagonist.
Suboxone, which contains both a partial opioid agonist-antagonist and an opioid antagonist, is not itself an opiate. It is a prescription medication that is used to treat opioid addiction.
However, when placed in a drug class, it is often considered a partial opioid agonist. It causes many of the same effects that opioids cause but to a much less intense degree.
The term "opiate" is reserved most accurately for natural substances that come from the poppy plant such as opium, morphine, and codeine.
The term opioid is used as a more blanket term for any drug, natural, synthetic, or semi-synthetic, that causes opioid agonist effects. Since buprenorphine and naloxone are both semi-synthetic opioid and make up Suboxone, the latter drug would likely not be considered an opiate.
Because Suboxone does cause many of the same effects that opioid agonists cause, it is placed in the category of partial opioid agonist. Technically, the medication can affect the user in all the same ways opioids can to a lesser degree.
When people abuse Suboxone, they often do so because the drug can cause these effects, but they do not always consider the issues that come along with abusing Suboxone (ex. withdrawal). Suboxone is not as dangerous as most opioid agonist medications, but it can be abused just like the rest.