Methamphetamine is a stimulant drug that is extremely addictive. Also called meth, crystal, and ice, methamphetamine resembles amphetamine in its chemical makeup. Its physical form is a white, odorless crystalline powder that is bitter to the taste. Methamphetamine can be administered orally, or smoked, or snorted, and dissolved in water or alcohol and injected directly into the vein as well. Smoking or injecting the drug produce immediate results because it has been delivered very quickly to the brain. Users experience an intense euphoria that fades quickly, causing the abuser to use more often and more in volume as well. This behavior is typical of meth users and is referred to as "binge and crash".
Other serious behaviors also accommodate methamphetamine use. Impaired inhibitions and poor judgment can lead to participation in activities that raise the risk of contracting infectious diseases like HIV and hepatitis B and C. Sharing needles and through unprotected sexual deeds can put the user at risk for contracting these devastating diseases. Studies have also indicated a link between continued methamphetamine use and the worsening of the progression of HIV/AIDS and its consequences. Injuries to neurons and greater cognitive impairment were shown to be complicated further in HIV-positive individuals who actively partook in methamphetamine.
Here Are Some Indications of Methamphetamine Use: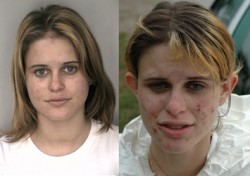 People who engage in meth use often end up with skin problems and dental decay.
Extreme alertness and an inability to sleep that can also be accompanied by euphoria and then followed by sadness or "spacing out".
Nervousness, scratching incessantly, fidgeting, picking at oneself
Decreased appetite, lack of thought, want or "need" for food
Increased respiration and/or increased body temperature caused by an increased heart rate
Physical evidence on the body such as burns on or near the lips or fingers, nosebleeds as a result of snorting, or track marks left by intravenous use
Lack of interest in hygiene and carelessness about appearance including neglect of bathing and brushing teeth and hair
Deceitful or unusually secretive behavior that can sometimes include theft from parents and loved ones as well as from others
Aggression and out of character or increased tendency toward violence due to the influence of methamphetamine on the central nervous system (mood swings, hostile behavior or abusive actions)
Presence of paraphernalia associated with inhaling and injecting drugs (ex: mirrors, razor blades, spoons, straws, or syringes)
Withdrawal from life that includes family and friends, school/work, and hobbies: deteriorating relationships, depression, lack of enthusiasm toward everything, decreased motivation, significant problems at work or school
If someone you know is exhibiting any of these behaviors, it is likely that they have a problem with methamphetamine and they are in need of help. While meth is extremely addictive and can ruin a person's life, there is help available and the hope of recovery does exist.