Hydrocodone is the most frequently prescribed opioid in the United States. It is known to be abused more regularly than any other opioid, whether illicit or prescription. Hydrocodone is prescribed most frequently for the treatment of moderate to severe pain. It is taken orally and has an analgesic potency similar to morphine. Hydrocodone is also a cough suppressing agent with an effectiveness comparable to that of codeine.
Common Brand Names for Hydrocodone and Combination Products Include:
Vicodin
Lorcet
Lortab
Vicoprofen
Hycomine
As with most other opioids, hydrocodone, induces euphoria and sedation, while also altering the perception of pain. Hydrocodone is known to cause drowsiness, dizziness, nausea, and depressed respiration and has shown an increased likelihood for dependence and addiction with long-term use.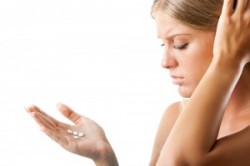 Help is often needed for a successful hydrocodone addiction recovery.
With regular use of hydrocodone from a prescription or if used recreationally, one can be at risk for overdose and/or experience withdrawal symptoms. Symptoms of withdrawal include restlessness, insomnia, diarrhea, vomiting and sometimes pain in the muscle and bone.
Signs of overdose include shallow breathing (respiratory depression), extreme drowsiness, clammy skin, hypotension, slower heart beat (bradycardia), coma, circulatory collapse, and cardiac arrest.
Determining whether or not a prescription drug abuse problem is serious and in need of help can be troublesome. Experience with the following scenarios may indicate a problem with the use of hydrocodone.
A feeling of physical illness begins when the prescription runs out and/or use is stopped. This may involve night sweats, pain, and insomnia.
Illegal actions have been taken in an effort to secure a "cache" or supply of the pills. Switching physicians and obtaining the drug from unorthodox suppliers (on the street), are examples.
In order to achieve the same desired results, more is needed.
Failed responsibilities due to the use of hydrocodone
Family and friendly relationships have suffered due to the use of hydrocodone.
Actively taking hydrocodone more often and/or in larger doses than the prescription indicates.
Hydrocodone addiction is a serious matter, not to be taken lightly. It has been suggested that changing the scheduling regarding the determination legally for this drug and its potential for abuse might help, but that seems to lead down a path that allows for more chaos medically. Dependency and addiction to hydrocodone and combination products containing hydrocodone is likely, but can be prevented. Having said that, once an addiction is present, all hope is not lost. There are several options available based on the severity of the addiction. Treatment, when sought, can turn on a light at the end of a tunnel that may seem too dark to navigate.