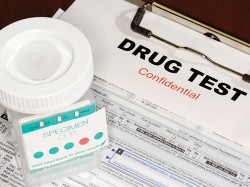 Monitoring programs help to reduce the impact of workplace drug abuse on employers and on other employees.
According to the National Council on Alcoholism and Drug Dependence, workplace drug abuse costs employers an estimated $81 billion annually. Workers who regularly abuse drugs are more likely to get injured, to miss work or to produce poor craftsmanship and provide low quality work than those who are sober.
Studies estimate that more than 14 million members of the workforce in the United States alone are addicted to drugs or alcohol. According to the Occupational Safety and Health Administration, OSHA, an estimated 75% of those who are addicted or using drugs are still employed.
Workplace Drug Abuse Costs Employers in the Form Of:
Productivity Loss
Absenteeism
Injuries
Illness
Fatalities
Workplace Theft
Reduced Employee Morale
Many of the costs are directly related to production while others are attributed to increased health care costs, legal fees and workmans' compensation claims. Overall, job performance is dramatically reduced when an employee is addicted to drugs or alcohol.
Workplace Attitudes
Drug abusers tend to have negative attitudes in the work place that can impact other members of the job too. It is very common for an individual who is suffering from an addiction to also exhibit the following negative workplace behaviors:
Problems financially which lead to depression or anxiety at work and can further lower employee morale.
Avoiding colleagues at work which can reduce communication and make working as a team difficult.
Placing blame on other employees which can cause fighting or arguments.
Complaining about problems taking place at home which can cause resentment or discomfort between employees.
Complaining about being sick or otherwise unable to perform work duties which can result in one employee taking the brunt of the work load.
Creating a Workplace Drug Abuse Monitoring and Prevention Program
Employers can do their part to prevent workplace substance abuse by instilling a monitoring program that helps to identify and reduce drug abuse by employees. Employee programs that aim to establish guidelines, appropriate monitoring and reporting of suspected drug abuse can improve employee morale, reduce the impact that drug abuse has on the work environment and prevent further complications from arising as a result of employee drug use.
According to the CDC, employee substance abuse programs may include:
Employee Assistance Programs (EAPs)
Education Programs
Health Promotion Programs
Nutrition Programs
Policies
Workplace policy can help to promote a corporate culture of positive habits and health for employees. Employers can do their part by instilling various policies to help improve workplace satisfaction and to reduce or prevent drug use by employees. This includes policies and programs such as:
Drug-free workplace policies which include clear guidelines as well as clearly outlined consequences for misconduct.
Health promotion programs which will educate employees on the risks of substance abuse as well as on healthy behaviors for improved well-being.
Assessment and counseling as needed for those who may be involved in substance use or at risk of such.
Drug testing to reduce the likelihood of drug use by an employee.
Policies that reduce nicotine use or other forms of substance use.
Supervisor training to include identification and recognition of substance use behavior.
Provisions which provide for treatment, adjustments and appropriate handling of repeat substance users in the workplace.
Clearly outlined disciplinary actions for those who break policy rules.
What to Do if You Suspect Drug Abuse
Whether you're an employer or an employee, workplace drug abuse will impact you in some way. As an employer, you are losing money, as an employee, you may be dealing with a loss of productivity that trickles down causing additional work for you. It's important that you realize how any drug use in the workplace is both dangerous and consequential-even if you are not the one using.
If you suspect that someone is abusing drugs in the workplace or outside of work, take action by talking with someone about the problem. As an employee, you can talk to your employer about the situation and seek help. If you are the employer, consider offering the individual counseling or therapy to help. Report all suspicions of drug use in the work place to the appropriate upper management and take steps to correct the problem.
Failure to Report Drug Use Could Lead To:
Injury
Illness
Fatality
Accident
If you need help, break the silence by calling our helpline to talk with someone who can lead you in the right direction.