Ecstasy, a popular "club drug" is MDMA, a chemically produced synthetic drug that produces euphoric effects when it is swallowed or snorted. More widely known as Molly, ecstasy produces profound effects on the user which can last anywhere from 3-8 hours depending on the dose taken, the strength of the drug and various other factors. This drug was widely known for many years as "the love drug," because it enhances the mood of the user resulting in deep empathy, connection and sensitivity. Unfortunately, ecstasy abuse can lead to dangerous overdose and potentially fatal consequences, mostly because there is little way to know the potency and also because many users mistakenly take what they believe to be ecstasy and later find that the drug was actually methamphetamine, heroin or another dangerous substance.
Understanding Ecstasy Abuse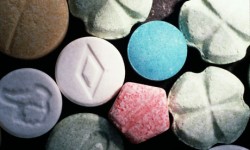 Molly is a dangerous drug that can provoke serious side effects when abused.
Ecstasy is produced in clandestine labs by drug dealers and is therefore highly dangerous as the potency differs greatly from one dose to the next. Because this is a synthetic, lab produced drug, there is no quality control nor is there any safe way to tell the potency of the drug before it is taken. According to the DEA, the majority of the "molly" that is confiscated on the streets is not actually ecstasy at all. In fact, an estimated 66% of the so called ecstasy that is confiscated by law enforcement contains absolutely no trace of ecstasy. It is usually methamphetamine, ketamine, heroin, cocaine or a combination of these or other substances.
Ecstasy abuse can have devastating consequences on the user. This drug is sometimes considered a hallucinogen or a psychedelic. The danger with these types of drugs comes with the unpredictability. A user may take ecstasy many times over without ever feeling the negative effects - or, in some cases, the first dose is deadly. There's no safe way to know how the body will respond to the drug. The unpredictable nature of the high means that one dose could prove to be 'fun and exciting' or it could prove to be deadly.
Ecstasy Effects
According to NIDA, the effects of ecstasy may be initially desirable, but the long-term outcome and the consequences that occur mentally and physically as a result of the use of this drug are not welcomed at all.
Individuals Who Abuse Ecstasy Are At Risk Of:
Depletion of serotonin, the chemical within the brain that is responsible for satisfaction, happiness, contentment and a sense of well-being.
Anxiety and irritability which can result in psychotic outbursts.
Sadness and depression which may linger for many weeks or months following the repeat use of the drug.
Reduced appetite which can result in dramatic weight loss, malnutrition and other adverse side effects.
Reduced ability to remember things, inability to control thought processes and overall decline in cognitive function.
Suffering long term side effects associated with mental illness, depression, anxiety or organ damage.
Having reduced interest in sex or inability to perform.
Dangers of Ecstasy Abuse
Regular use of Ecstasy can lead to an array of serious side effects. When the drug is taken, there are risks associated with the mere fact that it's a drug, but there are also risks associated with the fact that the drug may not actually be ecstasy. The drug could be methamphetamine, cocaine, heroin or any other substance. As such, the user carries the potential risks associated with the use of any of these substances in addition to those associated with using Molly itself.
Common Dangers Include:
Liver or kidney damage
Heart damage
Heart failure
Hyperthermia
Elevated blood pressure
Heart attack
Sweating and dehydration
Nausea and vomiting
Overdose
Physical dependence
Death
Ecstasy Overdose
Repeat use of this drug is likely to result in an increase in tolerance. As the user's tolerance grows, the need for more of the drug becomes evident and, many will take repeat doses or larger doses many times in a single night. The result - overdose risk increases with each use of the drug. An individual who overdoses on ecstasy is at risk of serious health complications including:
Extremely high blood pressure which can lead to heart attack or death.
Seizures or coma.
Panic attacks and outbursts that can lead to injury or adverse behaviors which could result in accident.
Cardiac arrest or heart failure which, left untreated, is deadly.
Hyperthermia which can be deadly.
Ecstasy Addiction
NIDA reports that ecstasy is a dangerous drug which does carry some potential to cause physical dependence. Those who repeatedly take the drug are at risk of develop chemical imbalances within the brain which result in the reduced production of serotonin. This can lead to depression, anxiety and a generally feeling of unhappiness. When the drug is not used, the individual will feel discontent and unhappy, may crave the drug and will likely experience various other symptoms of withdrawal such as:
Difficulty concentrating or focusing on things other than Molly.
Difficulty having fun without the use of the drug.
Trouble feeling happy without the drug.
Depression or anxiety.
You Might Be Addicted To Ecstasy If:
You feel like there's no way to live without it.
You wish you had ecstasy all the time.
You find yourself craving ecstasy and wishing you could feel the high repeatedly.
You cannot focus without the drug or you cannot focus on anything but the drug.
You feel sick or otherwise unhappy without the drug.
Treating Ecstasy Abuse
Various methods of treatment are available to those who have become addicted to ecstasy. Most of the treatment methods focus on behavioral therapy and support although medications that are commonly used in the treatment of anxiety or depression may also be provided. These drugs, although helpful in controlling depression or anxiety, are not approved specifically for the treatment of ecstasy addiction. As such, most will require behavioral intervention along with supportive care in order to make a full recovery.
If you or someone you love is addicted to Molly or has been regularly abusing this drug, we can help you figure out what type of treatment is going to help you get back on the right track. We understand that quitting can be difficult and scary - but with supportive care, guidance and your commitment, you can get sober.