Suboxone, a medication that treats opioid dependence and addiction, contains buprenorphine and naloxone. Because buprenorphine is a partial opioid agonist, it causes many of the same symptoms and side effects that other opioid agonists cause but to a lesser degree. Naloxone is included in the medication to help curb the possibility for abuse.
Does Suboxone Get You High?
If the drug is taken the way it is meant to, no. Suboxone is prescribed by certified doctors to individuals who are attempting to recover from opioid dependence and addiction. If the drug is taken as prescribed at the regular dosage, it will not cause the euphoria or any other effects associated an opioid high.
However, according to SAMHSA, "Although buprenorphine is an opioid, and thus can produce typical opioid agonist effects and side effects such as euphoria and respiratory depression, its maximal effects are less than those of full agonists like heroin and methadone." Still, there are those who would abuse Suboxone for buprenorphine's opioid agonist effects, and this should be prevented as much as possible.
How Does Suboxone Prevent Abuse?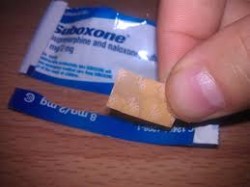 When taken as prescribed, Suboxone does not create a high feeling.
When buprenorphine was first approved to treat opioid dependence and addiction in 2002, it was initially produced as a medication that contained buprenorphine as the main ingredient. This medication is called Subutex. Now, there exists both Subutex and Suboxone, the latter of which also contains naloxone.
The FDA states, "Suboxone contains an additional ingredient called naloxone to guard against misuse." The naloxone within the Suboxone can actually precipitate withdrawal symptoms in the abuser if the drug (a sublingual tablet) is crushed and injected. This helps prevent patients from abusing the drug.
The inclusion of naloxone also helps to prevent abusers from getting high because withdrawal symptoms are precipitated quickly after the abuse of the drug. But Suboxone is still abused by individuals looking for an opiate high. This can be very dangerous and can lead to overdose, respiratory depression, and many other issues. The FDA states that "Suboxone is a controlled substance (CIII) because it contains buprenorphine, which can be a target for people who abuse prescription medicines or street drugs."
Suboxone and Abuse
Yes, there are ways that a person can get high from Suboxone. Because the drug is still a controlled substance, contains buprenorphine, and can cause euphoria and a relief from pain, it is sold and bought illegally by those who wish to get high from it. However, it is less likely to be abused than Subutex because it contains naloxone which will often make abuse more difficult.
According to the
DOJ
, "The addition of naloxone in the Suboxone product is intended to block the euphoric high resulting from the injection of this drug by non-buprenorphine maintained narcotic abusers." The inclusion of naloxone does more to help prevent this from happening, but there is still a possibility that someone might use Suboxone to get high.
Help Avoid This By Following These Steps:
Do not take more Suboxone than prescribed or take it more often than prescribed.
Do not give away or sell your Suboxone.
Visit your doctor often and stay on track with your Suboxone prescription.
Attend behavioral therapies to help you with cravings and other issues associated with opioid addiction.