Vicodin is a brand name used to describe the drug Hydrocodone, a powerful opiate that is commonly prescribed for the treatment of moderate to severe pain. Vicodin is often prescribed to patients following an injury, illness or surgical procedure such as a tooth extraction or minor outpatient surgery. The analgesic effects of Hydrocodone help to relieve pain while the acetaminophen that is commonly paired with the active drug can help to alleviate swelling and inflammation.
Understanding Vicodin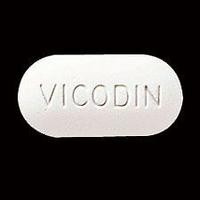 Vicodin is a painkiller which contains hydrocodone. Its potential for abuse is high, and its consequences can be grave.
According to Daily Med, Vicodin is most commonly prescribed in dosages of 10mg. The semisynthetic narcotic is also an antitussive which acts similarly to the active ingredients in codeine. The medication can be prescribed to reduce pain or cough associated with various types of illness. Unfortunately, Vicodin use can be habit-forming and may lead to physical dependence, addiction and subsequent withdrawal.
Recently, the DEA in conjunction with recommendations from the FDA, announced changes in the way that Hydrocodone containing medications are classified for drug control purposes.
Vicodin, once considered a schedule III controlled substance with a minimal risk of abuse and subsequent addiction is now classified as a Schedule II controlled substance. These substances are considered more dangerous and risky than those of a Schedule III substance.
Side Effects of Vicodin Abuse
One of the most dangerous side effects of Vicodin abuse is the risk for serious complications arising from an overdose of acetaminophen.
According to the FDA, Acetaminophen Overdose Can Lead To:
Serious Liver Damage
Liver Failure
Death
Vicodin abuse can also affect the way that the user reacts to pain, how the individual thinks and how the individual functions.
Side Effects of Vicodin Abuse Include:
Altered perception of pain
Altered reaction to pain
Euphoria
Sedation
Drowsiness
Dizziness
Nausea and vomiting
Labored breathing
Tolerance
Physical dependence
Addiction
According to the DEA, Vicodin and other Hydrocodone combination products, "are associated with more drug abuse and diversion than any other licit or illicit opioid in the United States."
Signs of Vicodin Abuse
An individual who is abusing Vicodin may show a number of side effects and signs. In the early stages, the individual will take more of the drug than is prescribed or he may take the drug without a prescription.
Additional Signs of Vicodin Abuse Include:
Running out of a prescription before the next scheduled refill date.
Seeking refills on a prescription before the scheduled refill date.
Taking Vicodin with other drugs.
Drinking alcohol while taking Vicodin.
Using Vicodin as a way of "having fun" or "coping."
Taking Vicodin to feel "good."
Acting irrationally while under the influence of Vicodin.
Operating machinery or driving a car while under the influence.
Hiding Vicodin use from loved ones or friends.
Using Vicodin for the sole purpose of getting high.
Vicodin Addiction
Repeat or chronic use of Hydrocodone containing drugs such as Vicodin can become habit forming. Unfortunately, many people become addicted to Vicodin as a result of having been legitimately prescribed the medication for the treatment of pain. They don't realize the risks involved with repeat use and soon find that they have developed a tolerance to the drug. As the user takes more of the Vicodin in order to achieve the same pain relieving effects, the physical dependence sets in within the body. When the Vicodin runs out, withdrawal symptoms set in—thus addiction has begun.
Signs of Addiction
If you suspect that someone you know may be addicted to Vicodin, consider the evident signs of an addiction which include:
Changes in dosing levels in an effort to reach the desired effects.
Running out of Vicodin long before the prescription refill date and going through great lengths in order to obtain additional product.
Using Vicodin in situations that are otherwise risky such as while at work, while driving or while drinking or using other drugs.
Taking Vicodin despite problems that the drug use is causing legally, financially, in relationships or otherwise.
Telling lies or otherwise masking the truth about Vicodin use.
Avoiding personal responsibilities in order to abuse Vicodin.
Allowing Vicodin to interfere with everyday routines and responsibilities.
Feeling sick or otherwise unhappy without Vicodin.
Lacking personal hygiene or personal care as a result of Vicodin use.
Empty pill bottles or other paraphernalia being found in the possession of the user.
Vicodin addiction is a highly dangerous situation that can lead to overdose or death. As such, this condition should not be downplayed or overlooked. Early detection is key to a rewarding and fulfilling recovery.
Vicodin Overdose
According to Medline Plus, the most dangerous elements of an overdose on Hydrocodone containing drugs such as Vicodin is liver damage or death resulting from the overdose of acetaminophen. Additional symptoms of overdose include:
Slowed heartbeat
Completely stopped heartbeat
Cold skin
Blue skin
Clammy skin or wet palms
Narrowed pupils that seem to be wide and slender
Shallow or labored breathing that is slowed or very difficult to detect
Fatigue and being excessively sleepy
Seizures, coma or death
If you suspect that someone you love has overdosed on Vicodin, call 911 for immediate medical assistance. Be sure to have as much detailed information about the patient as you can when you make the call so that the operator can be fully informed.
Vicodin Withdrawal
One of the greatest risks associated with an addiction to Vicodin, and also the common cause of continued Vicodin use following an addiction, is withdrawal. Vicodin withdrawal can be both difficult and painful to cope with. Most users will experience mild to moderate withdrawal symptoms following just a few days or repeat Vicodin use. For those who have abused the drug chronically for more than a few weeks, the risk of withdrawal can become moderate to severe.
Like other opiates, Vicodin withdrawal can include a wide range of symptoms. Withdrawal from Vicodin can occur whether the medication is taken for prescribed purposes or for recreational purposes. According to
Medline Plus
, "some people even withdrawal from opiates after being given such drugs for pain while in the hospital without realizing what is happening to them."
Symptoms of Vicodin Withdrawal Include:
Feeling Anxious or Agitated
Irritable and Unable to Focus
Cold or Clammy Skin
Feeling tired but suffering from insomnia
Diarrhea and vomiting along with stomach cramping and pain
Bone and joint pain or stiffness
Runny nose and watery eyes similar to those caused by allergies
Goose Flesh
Dilated Pupils and Increased Tearing
Chills
Symptoms of Vicodin withdrawal usually start approximately 12 hours following the last dose and will generally continue for a period of 72-100 hours. Most patients will feel the effects of relief following a couple of days of abstinence as long as repeat dosing does not take place.
Treatment for Vicodin Abuse
An individual who has been abusing Vicodin will likely require substance abuse treatment in order to find the support and care necessary to quit. Vicodin can be very difficult to quit using. According to the National Institute on Drug Abuse, addiction to Vicodin, and other drugs, is caused by changes that take place within the brain making it difficult for the user to control his or her drug use over time. This brain disease often requires a combination of both medical and psychological treatment in order to facilitate recovery.
Various Methods of Treatment are Available for Vicodin Addicts Including:
Behavioral Therapy
CBT
Individual Counseling
Group Counseling
Support
Medical Care
Depending on the severity of the addiction and on how committed you are to your own recovery, you may choose one of the following levels of Vicodin addiction treatment:
Residential treatment which provides around-the-clock support.
Intensive outpatient treatment which provides daily support and interaction usually for 6-8 hours a day.
Outpatient treatment which provides regular support sessions but not around-the-clock care.
Support groups such as NA will also be integrated into your treatment regimen to provide you with access to the necessary peer support for recovery. Additionally, you may choose to seek the help of a sober living facility following treatment. Here, you will adjust back to life outside of treatment while continuing to live in a clean and sober environment that is conducive to your continued success in recovery from Vicodin addiction.
Often times, medication will be provided to those who are seeking treatment for Vicodin addiction.
The most common medications used in any opiate addiction treatment protocol include:
Buprenorphine
Naltrexone
Suboxone
Methadone
Subutex
Each of these drugs works to control cravings, reduce withdrawal symptoms and stabilize the patient during the early stages of recovery. Unfortunately, as with any drug, these medications also have risks which should be thoroughly discussed with your treatment provider before administration. While it may sound good to utilize medication as part of your treatment, for some, the effects of the medication only prolong the process and steps necessary to achieve recovery essentially placing a band aid on the situation.
If you need help overcoming Vicodin addiction, contact our professional counselors today for a free referral into a qualified treatment center that can provide you with supportive treatment and care. There's no need to attempt recovery on your own—support is available to assist you in taking the first steps toward reaching your recovery goals.