Percocet overdose is a dangerous and concerning issue for those who use and abuse the drug. Consider the effects of a Percocet overdose and make sure you understand what necessary steps you should take if you or someone you know experiences an overdose from Percocet.
What are the Effects of a Percocet Overdose?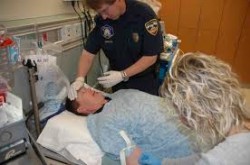 An overdose of Percocet can cause serious long-term damage to a person's health.
Those who experience a Percocet overdose may be in danger of several problematic health effects. According to the PMP, Percocet contains "a combination of oxycodone and acetaminophen" and "is used to treat moderate to severe pain."
Many people abuse the drug as well for the high it causes, putting them more at risk of experiencing a Percocet overdose.
Because of the two types of medication involved, you may experience two sets of effects from a Percocet overdose.
Symptoms of an oxycodone overdose, as stated by the NLM, are:
Difficulty Breathing, Slowed Breathing, or No Breathing
Pinpoint Pupils
Sleepiness
Dizziness
Fainting
"Limp or Weak Muscles"
Clammy Skin
Blue Skin, Fingernails, or Lips
Unconsciousness
Coma
According to the NLM, acetaminophen overdose, on the other hand, can cause:
Nausea
Vomiting
Loss of Appetite
Pain in the Stomach
"Unusual Bleeding or Bruising"
Flu Symptoms
Oxycodone overdose symptoms are normally more life-threatening and frightening, but the two together can be very problematic. You should know how to take care of someone if they overdose on Percocet. Make sure to:
Call 911.
Answer all questions and describe all symptoms as asked. Be honest, as the person's life may be in danger.
Stay with the person and do not leave their side for any reason.
Do not make them throw up unless you are told to do so.
If possible, bring the Percocet to the ED if you know that it was what the individual overdosed on.
If possible, use a naloxone pre-filled auto-injection device on the individual to counteract the effects of the drug. If you do not have one of these devices available, still wait with the individual until help arrives.
Eventual Prognosis of a Percocet Overdose
High doses of Percocet over time can cause liver damage and kidney failure (PMP). Someone who experiences many of these overdoses or who uses Percocet in high doses frequently might experience these issues. Chronic use of Percocet has its own health risks, and abusing the drug only makes it more dangerous. Percocet overdose can be very risky and many people die from respiratory depression.
According to the NLM, "If you receive medical attention before serious problems with your breathing occur, you should have few long-term consequences and will probably be back to normal in a day." However, many people aren't so lucky. "This overdose can be deadly or can result in permanent brain damage." Making sure that you do not experience these issues is dependent on time and how quickly you can be treated for Percocet overdose.
Percocet overdose has many health effects, some of which may even be long-term or permanent. But if you act quickly, you can help someone recover from Percocet overdose to be healthy and relatively consequence free.