Doctors openly prescribe Klonopin for the treatment of moderate anxiety as well as to those who suffer from seizures caused by a specific type of epilepsy. More commonly known as clonazepam, Klonopin is a member of the benzodiazepine class of drugs and can be habit forming when taken for recreational purposes as well as when prescribed.
Understanding Klonopin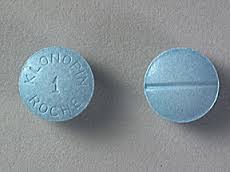 Klonopin is a benzodizepine. You can become dependent on and addicted to the medication.
According to Daily Med, Klonopin, "is available as scored tables with a K-shaped perforation containing 0.5 mg of clonazepam and unscored tablets with a K-shaped perforation containing 1 mg or 2 mg of clonazepam."
The medication is an antiseizure or antipanic medication that that can reduce the activity of the gamma aminobutyric acid which is responsible for inhibiting the neurotransmitters in the CNS. This drug will reduce anxiety, prevent seizures and help those who take it to feel at ease.
Unfortunately, when Klonopin is abused, there are risks for physical dependence and overdose. This medication is highly addictive and has the potential to cause addiction. Even when the medication is taken as prescribed, repeat Klonopin use can lead to tolerance and physical dependence which later requires professional treatment.
Signs of Klonopin Abuse
According to the DEA, when Klonopin is abused users will show various signs of abuse based on the method of use and the amount of use. Most people who abuse Klonopion will crush and snort the medication or chew the pills to produce near immediate effects. Such abuse, according to the DEA, is high among people who abuse heroin and cocaine.
The Following Signs of Klonopin Abuse May Be Seen in a User:
Decreased Motor Activity
Reduced Anxiety
Relaxation
Slurred Speech
Lack of Coordination
Sleepiness or Dizziness
Loss of Memory
Upset Stomach
Nausea or Vomiting
Insomnia
Restlessness
Tension
Difficulty Thinking
According to the FDA, serious side effects can arise when Klonopin is abused. The following symptoms are considered dangerous and could lead to serious consequences:
Thoughts of Suicide
Suicidal Behavior
Depression that is new or worse than previous case of depression
Difficulty sleeping or trouble staying asleep
Heightened Anxiety
Agitation
Restlessness
Panic Attacks
Extreme Irritability
Aggressive Behavior
Violence or Anger
Mania
Klonopin Overdose Risks
According to
Medline Plus
, Klonopin abuse can lead to overdose which may cause collapse or could lead to respiratory failure. If you suspect that someone has overdosed on Klonopin, call 911 immediately for help!
Signs of Klonopin Overdose May Include:
Drowsiness
Inability to Stay Awake
Confusion
Coma or Loss of Consciousness
Inability to Think Clearly
Slowed or Labored Breathing
WARNING: Left untreated, Klonopin overdose can have fatal consequences. Call 911 immediate if you suspect an overdose.
Dangerous of Klonopin Abuse
According to NIDA, Klonopin abuse can cause an array of serious side effects including extreme sedation and drowsiness that can lead to being taken advantage of if the drug is taken in a party scene. The reduced anxiety that occurs with the intoxication of Klonopin often leads to irrational thinking or to taking risks that would otherwise not be taken. Such can lead to promiscuous activity, unsafe sex, sharing of needles to use other drugs, driving while under the influence or otherwise behaving abnormally.
Additional Dangers Associated with Klonopin Abuse Include:
Abnormal Feelings of Well-Being
Lowered Inhibitions
Inability to Concentrate
Confusion
Impaired Coordination That Can Lead to Injury
Slowed Response
Poor Memory
Dizziness Which Can Lead to Injury
Slowed Breathing Which Can Lead to Respiratory Distress
Tolerance
Addiction
Withdrawal
Overdose
Death
Klonopin Withdrawal
According to the National Library of Medicine, benzodiazepines such as Klonopin which result in physical dependence often lead to subsequent withdrawal. Withdrawal syndrome is characterized by:
Sleep Disturbances
Irritability
Tension
Anxiety
Panic Attacks
Tremors
Sweating
Lack of Concentration
Nausea
Dry Heaving
Weight Loss
Palpitations
Headaches
Muscular Pain
Joint Stiffness
Changes in Perception
Seizures
Psychosis
Withdrawal symptoms can be both difficult to cope with and dangerous to the individual. Unlike symptoms of an opiate withdrawal, benzodiazepine withdrawal can be life-threatening. Initial symptoms usually come as anxiety and insomnia. These symptoms will last for a period of about 3-4 days. The second round of withdrawal symptoms, and the most difficult to cope with, tend to last about two weeks and may include an array of difficult to cope with side effects.
Klonopin Detox
Safe detox from Klonopin requires time and a gradual reduction of the medication to help prevent serious side effects associated with withdrawal. Generally, a treatment professional will gradually taper a drug off to allow the body to adjust to the reduced dose. This helps to forgo many of the symptoms of withdrawal while providing the patient with a smoother, and more comfortable recovery.
According to the
Minnesota Health Department
, tapering of a medication involves, "seeking an appropriate dose and duration for each medication and minimizing the risk of adverse consequences." The purpose of this method is to find a safe dose for the patient that will prevent serious side effects associated with withdrawal while allowing time for the body to adjust to the reduced dose. As the individual adjusts, the dose is then gradually reduced to bring the overall dosing down to a zero level over a period of a few weeks.
Tapering the dose off can take time, but it's generally the safest method of early detoxification from a benzodiazepine such as Klonopin.
According to
PubMed
, the management of tolerance to a benzodiazepine during detox involves providing treatment for the low-dose and high-dose withdrawal symptoms. Gradual tapering over a period of 4 weeks along with the provision of other medications for patients who have been taking extensive doses of Klonopin can be most effective. The average tapering adjustment is to reduce the medication by 10% daily until a zero dose is reached.
Klonopin Addiction Treatment
Once you've made the decision to seek help for Klonopin addiction, the next steps will be to find a place for detox and safe treatment. There are a number of treatment options available to you including counseling, therapy, medical intervention and support groups. Choosing the best program for your individual needs will require deep introspect into your current situation.
Consider Residential Treatment if:
You do not have a safe, clean and sober place to live.
You suffer from underlying health problems which may cause you to relapse.
You have tried outpatient treatment in the past and have been unsuccessful.
You do not think you will be fully committed to your recovery.
You have relapsed in the past.
Choose Outpatient Treatment If:
You have not attempted outpatient treatment before.
You have a strong system of support from your friends and family.
You are deeply committed to your recovery and ready to get sober.
You have a job that you cannot miss.
You have children or other responsibilities that would prevent you from being able to make the commitment to live in treatment.
Klonopin rehab programs offer unsurpassed treatment, therapy and care that is geared toward your individual needs. Remember, there is no one-size-fits-all method of treatment that is guaranteed to work for everyone, so don't be afraid to try out more than one treatment option as you seek the solution to your addiction.