Subutex is a medication that contains buprenorphine, a partial opioid agonist that can help patients dependent on and addicted to opioids stop abusing the drugs. There are many ways that Subutex achieves this, and one is by blocking the effects of other opiates.
Does Subutex Block Opiates?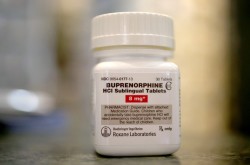 Subutex contains buprenorphine, which can block opiates at high doses.
According to SAMHSA, "In high doses and under certain circumstances, buprenorphine can actually block the effects of full opioid agonists and can precipitate withdrawal symptoms if administered to an opioid-addicted individual while a full agonist is in the bloodstream." Because buprenorphine is the active ingredient in Subutex, the medication can achieve this effect.
However, Subutex is not meant to be used like a naloxone injection or an opiate blocker in most instances.
It is, for the most part, used "for the treatment of opioid dependence" (FDA). While it does have the ability at certain doses and under specific circumstances to block the effect of opiates, Subutex is not a medication that is commonly used for this purpose.
What Do I Do If I Need a Drug to Block Opiates?
In the case of overdose, someone may need a drug that blocks the effects of opiates and "relieves dangerous symptoms caused by high levels of opiates in the blood," such as respiratory depression and coma. According to the NLM, a naloxone injection is the drug which most effectively achieves this purpose.
If someone you know has overdosed on opiates, DO NOT give them Subutex in order to reverse the effects. The medication is not approved for this treatment and will likely only make things worse. The best treatment to block the dangerous effects of opiates is a naloxone injection and getting the patient to to hospital as quickly as possible.
What is the Best Use of Subutex?
Subutex is a medication approved to treat opiate dependence and addiction. Someone who takes Subutex as a part of a full treatment regimen (including behavioral therapy) is receiving the strongest benefits of the medication and getting the best use out of it.
Subutex May Be Right For:
Someone Addicted to Opiates
Someone Dependent on Opiates
Someone who is moving forward from opiate treatment with methadone
Someone who is dedicated to ending their dependence on and addiction to opiates and will comply with the necessary actions required by the plan for successful Subutex treatment
Is Subutex Ever Used to Block Opiates?
In some cases, Subutex may be used to block the effects of other opiate drugs and to precipitate withdrawal in patients. Especially if someone attempts to abuse Subutex, the latter effect may be triggered. However, if Subutex is going to be used in any way as a medication for a patient, it should be done so with the approval of a certified doctor who has the authority to prescribe Subutex and other buprenorphine medications.
Subutex is still an abusable drug and it can cause respiratory depression, euphoria, and many of the other dangerous effects that other opiates can. Taking Subutex the way it is prescribed by your doctor is important and a patient should not stray from these orders.