If you have been abusing Percocet for the high it causes, you are likely to become addicted to the drug. The longer you abuse Percocet, the more likely you are to become addicted. Here are five symptoms of Percocet addiction which you must not ignore.
Withdrawal Symptoms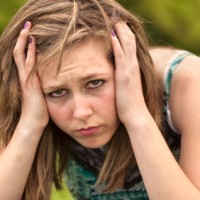 If you feel compelled to take Percocets because you get sick without them you are developing an addiction.
To be clear, withdrawal symptoms from Percocet do not necessarily mean that you are addicted to the drug. According to the NLM, "Some people even withdraw from opiates after being given such drugs for pain while in the hospital without realizing what is happening to them."
These people are not addicted to the drug, just dependent on it which can be treated by tapering off the drug.
However, if you have been abusing Percocet regularly and you experience these symptoms when you suddenly stop, you are dependent on the drug.
When opiates are abused, dependence and addiction often go hand in hand. Withdrawal symptoms for Percocet, according to the PMP, are:
Restlessness
Muscle and Bone Pain
Insomnia
Diarrhea
Cold Flashes With Goose Bumps
Flu-Like Symptoms
Vomiting and Nausea
Tolerance
Tolerance also often occurs alongside addiction in someone who has been abusing Percocet. If you feel yourself needing more of the drug each time in order to experience the same effects as you once did, you have become tolerant to Percocet. Percocet abuse can lead to tolerance, and abusers may take too much of the drug without realizing it, leading to overdose.
Overdose
If you have experienced overdose as a result of your Percocet abuse, addiction treatment is necessary. Percocet overdose can be life-threatening, as the oxycodone in the drug can cause your breathing rate to become dangerously low and even stop altogether. According to the NLM, other symptoms of Percocet overdose include:
"Excessive Sleepiness"
Small Pupils - This is called pinpoint pupils and it is how a medical professionals check for the presence of an opioid-based overdose.
Constipation
Fainting
Dizziness
Weakness
"Cold, Clammy Skin"
Slowed Heartbeat
Skin Turning Blue
Loss of Consciousness
Coma
Strange Behavioral Changes
If you suddenly notice that your behavior is changing as a result of your Percocet abuse, you are likely already addicted. Addiction is a brain disease that takes over the way you think and feel, making you behave and react strangely. You may experience:
Severe Mood Swings
Irritability
Anxiety
Depression
Apathy toward your responsibilities and obligations
A desire to only spend time with other people who abuse Percocet
Diminished life satisfaction
Cravings
Cravings are a strong sign of addiction. If you crave Percocet, or think about taking the drug even when you are not, you are likely experiencing many of the other symptoms of addiction as well. Cravings can be very dangerous as they can cause a person to seek out more of the drug, even to the detriment of oneself. This is called drug-seeking behavior and occurs in those who are addicted to a certain drug. Percocet is no different and will cause cravings just like other abused drugs. If you experience cravings for Percocet, or any of the other symptoms as a result of your abuse, consider Percocet addiction treatment today.