Hydrocodone is one of the most widely prescribed analgesic painkillers in the United States. According to the DEA, this opioid is associated with more instances of drug abuse than any other opioid including heroin, Oxycodone and Oxycontin. The potency of Hydrocodone is referred to as quite similar to that of morphine, and when taken as prescribed this medication can have a profound impact on pain relief. Unfortunately, Hydrocodone is also habit-forming and can lead to serious complications when used outside of the normally prescribed methods.
Understanding Hydrocodone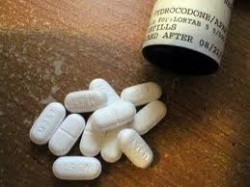 Hydrocodone is a powerful opiate that is found in many painkillers. Its use carries many risks.
Medline Plus described Hydrocodone as a product used to relieve moderate to severe pain or to eliminate or reduce cough. This medication is considered a narcotic analgesic with antitussive qualities. The drug works by changing the way that the CNS responds to pain by slowing the activity in the brain in areas that are responsible for pain perception.
Most Hydrocodone containing medications are paired with acetaminophen or another ingredient.
Vicodin, Lortab and similar drugs contain the active ingredient hydrocodone as well as up to 325mg of acetaminophen. Due to stricter regulations on hydrocodone containing products that were only recently announced by the DEA, doctors are now required to actively monitor any patient who is prescribed this type of medication to help ensure the safety of the patient as well as the safety of others. This is all a part of the efforts by the Office of National Drug Control Policy to reduce substance abuse in America.
Signs of Hydrocodone Abuse
Abusing hydrocodone often goes unnoticed by others until the real damaging effects of the drug use begin to set in.
Early Signs of Hydrocodone Abuse May Include:
Using hydrocodone for reasons other than it has been prescribed.
Using hydrocodone without a prescription.
Using hydrocodone to cope with stress or other emotions.
Taking hydrocodone more frequently than prescribed or taking larger doses than prescribed.
Using hydrocodone with other drugs or alcohol.
As hydrocodone abuse becomes more dominant in the life of the user, the risk for physical dependence and addiction also becomes greater. Repeat use of this drug will lead to an increased tolerance and can give way to physical dependence which later requires professional treatment in order to stop.
Hydrocodone Addiction Symptoms
Hydrocodone is a habit-forming medication that can quickly lead to an addiction. Even if you are prescribed this medication for the treatment of legitimate pain, you are at risk of becoming addicted. According to the Connecticut Department of Consumer Protection, you may be addicted to hydrocodone if:
You feel sick when you don't take hydrocodone. This may include suffering from night sweats, chills, pain in the bones or joints or insomnia. Such illness can occur within a few hours of your last dose or may not occur until you run out of hydrocodone completely.
You commit illegal activities such as shoplifting, stealing, or prostitution in order to obtain hydrocodone or money to support your drug habit.
You find yourself with an increased tolerance to the drug requiring the use of additional doses in order to feel the same effects and euphoria that was originally felt.
You feel as if you cannot go through the day without hydrocodone.
You don't feel happy, accomplished or content without hydrocodone.
You take hydrocodone in increasingly larger doses, or increasingly frequent doses.
You have been asked by a loved one to quit but you continue to abuse the drug.
You wish you could quit but you don't know where to start.'
You have tried to quit and failed.
Many don't realize that addiction is a disease of the brain that can make it very challenging to quit using even for the strongest willed and committed individual. If you feel as if addiction is controlling your life, consider seeking professional treatment today.
Hydrocodone Overdose
An overdose on Hydrocodone can lead to life-threatening complications if left untreated. This drug can cause liver damage, organ failure, and other serious complications when an overdose amount is consumed. The most common symptoms of Hydrocodone overdose, according to Medline Plus, include:
Extreme Sleepiness or Fatigue
Trouble Breathing or Very Labored Breathing
Very Small, Pinpoint, Pupils That are not Responsive to Darkness
Unconsciousness
Coma
Death
If you suspect that someone has taken an overdose amount of Hydrocodone, call 911 for immediate medical attention.
Left Untreated, Hydrocodone Overdose Can Result in Fatal Complications Including:
Liver Failure
Liver Damage
Kidney Failure
Respiratory Depression
Heart Failure
Hydrocodone Withdrawal
Hydrocodone withdrawal results when an individual has become physically dependent on the drug following repeat or chronic use that takes place for a period of more than a few weeks. Generally, withdrawal symptoms are mild to moderate and resemble those of the flu. However, in users who have chronically relapsed on hydrocodone or other opiates, the effects of withdrawal can become increasingly severe with each successive use and relapse. As such, symptoms of withdrawal may become very painful and difficult to cope with.
The
National Library of Medicine
describes hydrocodone withdrawal as, "a wide range of symptoms that occur after stopping or dramatically reducing opiate drugs after heavy and prolonged use (several weeks or more)."
Symptoms of Withdrawal Can Include:
Irritability
Agitation
Muscle Pain or Bone Pain
Weakness
Nausea and Vomiting
Diarrhea and Abdominal Cramping
Sweating
Yawning
Increased Tearing of the Eyes, Watery Eyes Similar to the Effects of Allergies
Runny Nose Similar to that Associated with the Common Cold
Heightened Anxiety
Goose Bumps and Chills
Symptoms of Hydrocodone withdrawal are non-life-threatening and generally do not require prompt medical attention. Likewise, it is important to have supportive care during the withdrawal process in order to prevent relapse from occurring.
Hydrocodone Detox
According to NIDA, "many drug-dependent patients can safely undergo withdrawal as outpatients." Outpatient detox is generally more affordable for the individual and tends to be less disruptive than inpatient or residential treatment. While detoxing from Hydrocodone may be painful or uncomfortable, there are generally few health complications that can arise directly from the detox.
The Process of Detoxing From This or Any other Opiate Generally Includes:
Medical intervention including medications such as methadone, suboxone, naltrexone or buprenorphine.
Evaluation of withdrawal symptoms on a regular interval range of every 2-3 days for a period of 10 days.
Follow-up recommendations for treatment which will include counseling and behavioral therapy.
Hospitalization is not usually required for an individual who is detoxing from Hydrocodone or any other opiate unless there is an underlying medical health condition that would require such medical care.
Types of Hydrocodone Addiction Treatment
According to Harvard Health, opiate addiction treatment consists of a period of detox, medical care, counseling and therapy. Often times, medications such as methadone, naloxone or buprenorphine are provided to the patient to help curb cravings and control the symptoms of withdrawal. It's important to discuss the use of medications thoroughly with your doctor or treatment provider prior to such use in order to ensure your safety and continued progress toward your recovery goals.
The Most Common Types Medications Used in Treatment for an Addiction to Hydrocodone Include:
Methadone Maintenance
Buprenorphine
Naloxone
Suboxone
Subutex
Additional medications may also be prescribed for the treatment of individual symptoms associated with anxiety, upset stomach or nausea, vomiting, diarrhea or other side effects associated with early hydrocodone withdrawal.
Various types of treatment exist to help those who have become addicted to hydrocodone.
The Most Common Include:
Medication maintenance using one of the above listed medications to control cravings or reduce symptoms of withdrawal.
Residential treatment which provides continued care, in a residential setting, where counseling and therapy is received daily.
Outpatient treatment which offers regularly scheduled sessions of counseling and therapy as well as drug use monitoring through random or scheduled drug testing.
Intensive outpatient treatment which provides daily treatment and counseling sessions for a period of 5-8 hours as well as drug monitoring.
Support groups such as NA or other programs that offer peer support and guidance.
Choosing Hydrocodone Addiction Treatment
Determining which method of treatment for hydrocodone addiction is ideal for your individual needs will require some introspective assessment of your unique needs, your addiction and your goals. Each type of treatment has valuable benefits but there is no one-size-fits-all method that will work for everyone. Consider the following factors when choosing treatment:
Cost - Can you afford the treatment, is there insurance coverage, how are fees paid?
Location - Can you access treatment, is it far enough away to get you out of a bad situation, are you comfortable with staying in the treatment location?
Type of Treatment - Is medical care offered, are there other means of therapy, does the facility offer follow up care?
Amenities - Are you comfortable with the surroundings in the facility, are additional activities offered, can you feel at ease living in the facility?
Accreditation - Has the facility been accredited by a state licensing agency, does the facility meet all state requirements, are there additional accreditation standards being met?
Staff to Patient Ratio - Will there be adequate staff to provide you with the one-on-one treatment time that you need to be successful in recovery?
Ultimately, the hydrocodone addiction treatment that you choose can make all the difference in your recovery status. If you find that a particular program is not effective for you, don't be afraid to discuss changes and adjustments with your treatment provider. Remember, there is no single method of treatment for hydrocodone (or any other) addiction that works for everyone - it's ok to change.