Clonazepam, a member of the benzodiazepine family, is used to treat different disorders from panic attacks to seizures. Doctors must prescribe clonazepam to a patient for legal use. The medication also goes by its brand name Klonopin. Clonazepam is a drug that has beneficial medicinal properties, but it can also be abused. Because it can be habit-forming, addiction can result from abuse of clonazepam, as well as other unwanted or dangerous side effects.
Understanding Clonazepam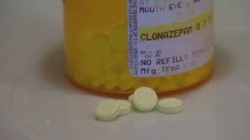 The only brand name for clonazepam is Klonopin, and the two are used interchangeably.
Clonazepam is, according to the NLM, "used alone or in combination with other medications to control certain types of seizures." Clonazepam can be used to control the convulsions and other symptoms of a seizure as well as:
The symptoms of panic attacks ("sudden, unexpected attacks of extreme fear and worry about these attacks")
Akathisia (restlessness)
Acute catatonic reactions (a state in which a person does not move or speak)
The NLM states that "clonazepam may help control your condition but will not cure it." Since the conditions that clonazepam helps with are more intense and rare, it is not as commonly prescribed as some other benzodiazepine drugs. However, it is highly necessary to those who are struggling with these conditions.
The only brand name for clonazepam is Klonopin so they are often used interchangeably.
Signs and Symptoms of Clonazepam Use
Clonazepam, like all medications, has its share of side effects and risks. As a benzodiazepine, clonazepam can cause a person to become drowsy. The NLM states that it "works by decreasing abnormal electrical activity in the brain." If someone is using clonazepam, he or she may be:
Tired
Drowsy
Sluggish
Euphoric (caused by high doses)
Clonazepam Has Other Side Effects That May Affect the User. They are:
Dizziness
Drowsiness
Blurry Vision or Other Vision Problems
"Muscle or Joint Pain"
Increase in Saliva Production
Problems with Coordination or Unsteadiness
Problems with Memory
Difficulty Thinking
Frequent Urination
"Changes in Sex Drive or Ability"
Many of these side effects are not severe and are not difficult to live with. However, if they do not go away or become unbearable, let your doctor know. Your needs are important as a patient, and your doctor may want to lower your dosage or switch you to another medication if you are having trouble with clonazepam.
Some side effects are not as common or can be indicative of something much more serious. The side effects of clonazepam which might be dangerous are:
Difficulty Breathing
Difficulty Swallowing
Hoarseness
Rash
Hives
"Swelling of the Eyes, Face, Lips, Tongue, or Throat"
Some of these may be indicative of an allergic reaction, but others could be other serious conditions caused by clonzaepam. Either way, it is important to speak to your doctor immediately if you experience any of the above symptoms. As with all medicines, clonazepam has side effects which, if left untreated, could end in serious health problems for the user.
Risks of Clonazepam Use
Clonazepam has its own risks like all medications. Making sure that you know the risks and take the important precautions is necessary to taking clonazepam.
According to the FDA, some of the health risks of taking clonazepam are:
Worsening of Seizures - The FDA states that "when used in patients in whom several different types of seizure disorders coexist, Klonopin may increase the incidence or precipitate the onset of generalized tonic-clonic seizures." This can be very dangerous and is important for patients to know, as clonazepam is not a cure for seizures but merely helps to prevent the symptoms. Discuss the possibility of this outcome with your doctor and make sure you understand what to do in the event of your seizures worsening.
Risk of Abrupt Withdrawal - Patients on "long-term, high-dose therapy" are especially at risk for abrupt withdrawal symptoms from physical dependence on clonazepam. A doctor must gradually withdraw a patient from clonazepam in order to avoid this issue, and "the simultaneous substitution of another anticonvulsant may be indicated."
Patients Who are Renally Impaired - "Metabolites of Klonopin are excreted by the kidneys." Patients with impaired renal function should be extra careful when using clonazepam and doctors should exhibit caution when treating it to avoid the excess accumulation of the metabolites.
Hypersalivation - Hypersalivation is a problem caused by clonazepam where the patient produces "an increase in salivation." Patients who "have difficulty handling secretions" and especially those with a history of respiratory depression should exhibit extreme caution when taking clonazepam.
It is also recommended that "periodic blood counts and liver function tests" are done during long-term clonazepam use. Clonazepam can also be problematic for those women who are pregnant or thinking of becoming pregnant. "Because of experience with other members of the benzodiazepine class, Klonopin is assumed to be capable of causing an increased risk of congenital abnormalities when administered to a pregnant woman during the first trimester." Therefore, if you are pregnant or considering becoming pregnant, you should know the risks of clonazepam.
Clonazepam Abuse
Like most benzodiazepines, there is a high risk of abuse for clonazepam. According to the FDA, "Klonopin is a federally controlled substance (C-IV) because it can be abused or lead to dependence." This means that someone taking the medication should be aware of the possibility for abuse. Someone abusing clonazepam will most likely experience:
Tolerance - A condition where a person begins to feel less of an effect after taking a drug for a long amount of time. This can lead to the individual taking higher doses of the drug to feel its effects, breaking the dosage set by his or her doctor.
Withdrawal - A condition where someone has become physically and psychologically dependent on clonazepam.
Clonazepam Withdrawal Symptoms Are:
"Seizures That Do Not Stop"
Hallucinations
Stomach Cramps
Muscle Cramps
Shaking
Abuse of clonazepam is not limited to those who begin taking it under doctor's orders. Clonazepam is also abused for the euphoric feeling it can give those who take it in high doses. This can be very dangerous as someone who is taking clonazepam for this reason could easily become addicted to the drug.
Clonazepam Addiction
The NIDA states that "work by NIDA-funded researchers has established that benzodiazepines cause addiction in a way similar to that of opioids, cannabinoids, and the club drug gamma-hydroxybutyrate (GHB)." Someone who is abusing clonazepam, whether for recreational use or by upping his or her dosage to feel stronger effects, is in danger of becoming addicted.
If you have been using clonazepam, here are some questions to ask yourself in order to know whether or not you may have become addicted to the drug.
Am I taking more clonazepam than I was when I started taking the drug? And has my current dosage not been approved by a doctor?
Do I think about clonazepam even when I am not currently taking it?
Do I crave the high I get from taking clonazepam?
Have I ever done anything dangerous or illegal in order to obtain more clonazepam?
Do I hide my use of clonazepam from friends and family, or do I hide the drug around the house?
Have I ever gotten into an argument with a loved one over clonazepam?
Would I rather take clonazepam than do anything else?
Do I need clonazepam just to get out of bed in the morning?
If you answered yes to any of these questions, you may already be addicted to the drug. Addiction also causes extreme problems in a person's life. If you have had any kind of problems, whether work, school, relationship, or law-related, in the past year that have had to do with clonazepam and you have not stopped taking the drug, you are already more than likely addicted.
Addiction becomes involuntary, and a person's use of clonzepam will be beyond his or her control. This is why treatment is necessary.
Prevalence of Clonazepam Abuse
The DCP states that clonazepam is a schedule IV drug. This means that the drug has a potential for abuse but that it also serves a medicinal purpose when used correctly. The drug is usually swallowed or "crushed and snorted" by abusers.
Clonzepam has several common street names, such as:
K-Cuts
K-Pins
Pins
Super valium
It is usually sold illegally for two dollars per 1mg. Illegal use of the drug is dangerous and can lead to overdose, withdrawal, and other issues. According to the DOJ, "both the San Diego and the Chula Vista Police Departments report an increase in the abuse of clonazepam." It is often used with other opiates in order to enhance the effects of both drugs, and some "users claim that it produces a high without the smoke and red eyes associated with marijuana," making it easier for users to hide their drug abuse.
Some people also use clonazepam to "replicate the effects of Rohypnol, a date rape drug." High doses of the drug can make a person very drowsy and sluggish, and there are those who would abuse the drug for this purpose.
Overall, clonazepam addiction is a serious disorder which can lead to other issues. A person who is addicted to clonazepam should seek addiction recovery treatment.
Clonazepam Addiction Treatment
As stated by the NIDA, "treatment does not need to be voluntary to be effective." This is important to remember as many addicts will not want to attend formal treatment. Addiction changes the way the brain works, and it takes a long time to change it back. Even then, problems with addiction can still linger. The most recommended amount of time for someone to be in treatment is more than 90 days. Any longer is usually even more effective, and any shorter is significantly less so.
Clonazepam addicts should attend formal treatment just as other addicts do, starting with detox.
Clonazepam Detox
Benzodiazepines are addictive drugs. A person who has been abusing them for a long time will most likely become addicted and need more than just detox treatment. However, detox is part of the necessary treatment process. The medical professionals assisting the patient in detox will help him or her withdrawal from the drug comfortably, without taking the drug away immediately.
Most detox clinics will reduce a person's dosage of clonazepam gradually. "Withdrawal symptoms are most severe when a high dose of either a short-acting or intermediate acting benzodiazepine is abruptly discontinued." (CESAR). Clonazepam is a long-acting benzodiazepine, so withdrawal symptoms may be less severe, but they also may take longer to fade away.
Clonazepam Addiction Treatment
After detox, a person should attend an addiction recovery facility. Detox does not cure a person of addiction; it only curbs withdrawal symptoms and helps get the drug out of his or her system. Treatment for addiction is necessary because it gets to the root of the problem.
Everyone's needs are different which is why not all types of treatment plans and treatment facilities are the same. One patient may need to attend an inpatient facility because he or she has been struggling with addiction to and abuse of other substances in addition to clonazepam. Another patient may choose an outpatient treatment facility because he or she is not struggling with other addictions or mental disorders and has a strong support system at home to supplement treatment. Depending on your needs (and not just those that have to do with your abuse), you should build a treatment plan and attend a facility that is right for you.
Types of Clonazepam Treatment
There isn't an official medication with which to treat benzodiazepine addiction. This means that treatment is largely made up of different types of therapy. A clonazepam addict may be treated with:
Motivational Incentive Therapy
Cognitive-Behavioral Therapy
Group Therapy
Some facilities also use family and relationship therapy to help patients, as addiction can cause many problems in these areas. While clonazepam treatment is mostly "psychological therapy, group therapy, and other programs to prevent the possibility of relapse," a patient should choose the type of therapy that is right for him or her, and a facility that offers those types of treatments and programs (UCLA).
Clonazepam is a necessary medication for many individuals. However, due to its habit-forming tendencies, a person must be very careful when taking the medication. Doctors and patients should stay informed with one another as well. Those who abuse clonazepam may incur serious physical and psychological problems.