Meth abuse is a large and growing problem across the United States. The drug has severely damaging consequences for users, their families and others around them. Crystal meth production is damaging to the environment, and causes serious problems for law enforcement and society at large. In fact, methamphetamine has a profound cost to society from loss of productivity, law enforcement, environmental protection and cleanup, addiction treatment programs, and much more.
Understanding Meth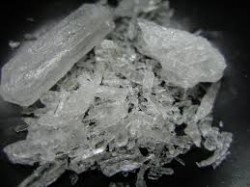 Crystal meth comes in a few different forms, each as dangerous as the other.
Methamphetamine, also known as meth or crystal meth, is an entirely synthetic illegal drug. It is a central nervous system stimulant that was manufactured from amphetamine.
According to the National Institute on Drug Abuse, "methamphetamine differs from amphetamine in that, at comparable doses, much greater amounts of the drug get into the brain, making it a more potent stimulant." This fact increases its potential for abuse, and makes its effects more harmful.
In its more pure form, methamphetamine is a white, odorless, bitter-tasting crystalline powder. It comes in a few different forms, however, and can be inhaled, smoked, injected, or taken orally. The drug is most often abused in a 'binge and crash' pattern, because the drug generates powerful highs and lows in users. Its effects are very powerful and have been known to keep people awake for long stretches of time.
Methamphetamine is a Schedule II drug, which means that it is only available for short-term, non refillable prescriptions. It could be prescribed to treat ADHD, or in some weight loss programs though these prescriptions are very rare and at only extremely low doses.
Risk of Meth Use
Methamphetamine, first and foremost, is a highly addictive drug. It can lead to a lifetime struggle with addiction, which impacts one's health, family life, finances and more. Even if a user does not become addicted to meth, which is unlikely if a person is regularly using it, they will experience many negative side effects on both the short and long term.
According to CESAR, short-term risks of meth use include:
Rapid heart rate
Irregular heartbeat
Increased blood pressure
Dry mouth
Bad breath
Paranoia
Unpredictable behavior
Headache
Seizure
Hyperthermia (elevated body temperature)
These effects are the potential side effects users experience to the intended feelings of euphoria, alertness, and increased energy. They can be experienced whether the person is a regular user or not and usually subside once the high wears off.
Long-term effects and risks of meth are the result of chronic meth use. They include:
Anxiety
Addiction
Confusion
Insomnia
Mood disturbances
Violent behavior
Psychotic symptoms (paranoia, hallucinations, delusions)
Diminished cognitive ability and memory
Increased risk of stroke
Severe dental problems
Weight loss
Deficits in motor skills
Lesions and sores on the skin due to scratching
The brain damage caused by meth is in many cases very severe and takes a long time to heal. According to the NIDA, "[A] neuroimaging study showed neuronal recovery in some brain regions following prolonged abstinence (14 but not 6 months). But function in other brain regions did not recover even after 14 months of abstinence, indicating that some methamphetamine induced changes are very long lasting."
Prevalence of Meth Use
Crystal meth use is a large and growing problem in the USA and around the world. There are as many as 50 million meth users worldwide, and the US National Survey on Drug Use and Health found that prevalence is at 0.5% nationwide in the US. That same survey found that "over 12 million people (4.7 percent of the population) have tried methamphetamine at least once".
According to a RAND Corporation report, methamphetamine abuse cost the US $23.4 billion in 2005. That cost likely reflects the resources spent on law enforcement, environmental protection and clean up, lost productivity and treatment efforts among other expenses, and shows that the country's meth problem is no small issue.
Meth abuse began to be a problem in the 1960s in the western US. At the time it was legal, but by 1970 the Comprehensive Drug Abuse Prevention and Control Act classified methamphetamine as a Schedule II drug, and made it illegal to possess without a prescription. Up until the 1980s meth production and use was kept mainly in California and other western states, but it has travelled eastward and is now an issue across the nation.
Signs of Meth Abuse
When a person is high on methamphetamine they will have a hard time hiding it. Meth abuse causes strong effects which can be noted by the people around them, especially if they are typically more calm and reserved people.
According to NIDA, some crystal meth abuse signs include:
Irritability
Anxiety
Rapid talking
Increased wakefulness
Long periods of being awake followed by long periods of sleep
Decreased appetite
Increased respiration
Rapid heart rate
As a person's problem with meth abuse grows, they may start to display other problems, such as not keeping care of their appearance, dental problems, skin sores, shady behavior and more. A person who is starting to engage in meth abuse may show less of an interest in activities they previously enjoyed, may start hanging out with a new group of people, and may start to perform badly at work or in school.
Symptoms of Meth Addiction
Meth abuse all too often and all too easily leads to addiction. By definition addiction is a chronic, relapsing disease in which a person has lost control over their drug use and compulsively seeks out drugs. Meth addiction is very dangerous, as it involves chronic and compulsive meth use, leading to very serious and lasting mental and physical health problems as well as other lifestyle issues.
Some Common Signs of Meth Addiction
Compulsive drug seeking
Financial loss
Stealing and engaging in other criminal behavior
Shady behavior
Insomnia
Severe weight loss
Dental decay, broken teeth
Sores and lesions on the skin
Psychosis
Paranoia
Violent outbursts
Cognitive impairment
Memory loss
Experiencing withdrawal after a short time without meth
Trying to stop using meth but failing
Feeling anxious when you do not have meth
If someone you love is acting strange and is displaying these signs and symptoms, it is important that you seek help. The effects of meth worsen the longer a person uses, and they can lead to job loss, financial insecurity, loss of custody of children, divorce, severe mental and physical health problems and more.
Meth Addiction Treatment
For those who are struggling with an addiction to meth - and for their loved ones - there is help available, and it is important to know that recovery is possible. Methamphetamine does, however, cause significant damage, and it will take time to fully heal from its effects. According to the National Institute on Drug Abuse, "Research indicates that most addicted individuals need at least 3 months in treatment to significantly reduce or stop their drug use and that the best outcomes occur with longer durations of treatment." For those with an addition to methamphetamine, treatment lengths of up to two years or even longer are often recommended.
Meth addiction treatment often incorporates various types of behavioral and cognitive therapies in both individual and group settings. At this point in time there are no medications that are used for meth treatment.
Meth Detox and Withdrawal
Detoxification is the first stage in recovery from meth abuse and addiction. During detox, a person goes through a process of ridding their body of methamphetamine. If the person was dependent on meth their body will react to no longer having the substance in what is called withdrawal. Withdrawal symptoms from methamphetamine have a ranging duration, with most symptoms dissipating within two weeks. Drug cravings persist for longer, and may last for longer than five weeks.
Meth Withdrawal Symptoms May Include:
Depressive symptoms, dysphoric mood
Psychosis-like symptoms (hallucinations, paranoia, picking of the skin, violent episodes)
Drug cravings
Insomnia or hypersomnia
Fatigue
Increased appetite
Psychomotor agitation or retardation
Vivid, unpleasant dreams
According to a study in the Journal of Addiction, symptoms of meth withdrawal are often a factor in relapse. The strong cravings involved, as well as the other symptoms, make it very difficult for people to maintain their commitment to abstinence and recovery. For this reason it is highly recommended that people seek supervision and treatment during detox. When you enter a rehab program, detox treatment is the first phase.
Types of Meth Addiction Treatment
Meth addiction treatment consists mainly of different types of counseling and therapy, as at this time there are no medications to treat the condition. Rehab programs for methamphetamine work to help a person heal physically, emotionally, and spiritually from the effects of their addiction. They also help people adapt a drug-free lifestyle, and to develop skills and hobbies that will support such a lifestyle. Some rehab programs also incorporate the person in treatment's family, for the benefit of both the client and the family members.
Treatment can take place in a few different settings, and often is a combination of them. The main different treatment settings are:
Inpatient treatment centers where clients live in the treatment center and have access to around the clock care and support. This can be particularly helpful for meth recovery, given the depth at which meth can truly harm a person's well-being. These programs are typically more costly than others, but they do offer very in-depth care. Individuals with co-existing mental or physical health issues may be best suited to an inpatient rehab.
Outpatient treatment centers usually offer many of the same treatment types as inpatient centers (group and individual therapy, motivational interviewing, contingency management), but clients do not live in the treatment center. Instead, they live at home and go to treatment at pre-scheduled times throughout the week. Outpatient rehab is typically cheaper, though it does require a higher degree of self discipline because the person may be exposed to the same toxic environment which led to drug use.
Individual therapy is another option in meth addiction recovery. Some people choose to work with one drug counselor in a private practice, where treatment methods may vary.
Support groups are often incorporated at all stages of recovery, and while people are in treatment at any type of program. There are many different kinds of support groups which help motivate recovery and keep people on track with their goals. Support groups take place in person and online, and are a great place to build a support network of people who understand addiction and recovery themselves.
Methamphetamine rehab can be very helpful in a person's quest for recovery. Many people end up needing to spend a few different stays in rehab before achieving long-term recovery, but with the right help, support and determination it can be achieved.
After leaving rehab, it is a good idea to continue with support groups and attend aftercare treatment. Sober living is an option to help in the transition after rehab, as well.